7 kid-friendly activities on Mount Desert Island
There is plenty for kids to enjoy on Mount Desert Island, but here are seven activities in particular that they will thank you for, from movie-watching to whale-watching.
105 Eden St., Bar Harbor
288-3483
Watch as Diver Ed and his sidekick, Mini Ed, dive for ocean critters on this two-hour cruise aboard the Starfish Enterprise. Special equipment allows tour-goers to see and hear what Diver Ed finds below the ocean's surface. He will even bring some aquatic friends (think starfish and lobsters) on deck to meet the kids, before bringing them back to their natural habitat. Younger kids will scream and laugh with delight on Diver Ed's boat.
Morning and afternoon tours. Book online or call for reservations. All tours depart from College of the Atlantic pier. Kids under 5, $15; under 12; $30; seniors $35; regular adults $40.
368 State Highway 3, Bar Harbor
288-2133
If you've had enough with the lobster and hiking trails for a day, head out for some good, old fashioned, mini golf fun. This national franchise offers two 18-hole courses with a swashbuckling theme, complete with a full-size pirate ship.
Open May-October. Kids 3 and under play free; kids 4-12, $7.95 for 18 holes or $12.95 for 36; adults $8.95 for 18 holes or $13.95 for 36 holes.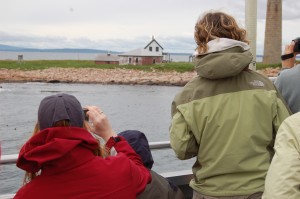 Bar Harbor Whale Watching Tours
This company offers a sightseeing tour for everyone. Kids will be thrilled to catch a whale breaching or see a lazy seal colony — or hire a babysitter and book a romantic, sunset cruise just for mom and dad.
Ticket prices vary by date and type of tour. Call or book online.
Route 102 between Somesville and Southwest Harbor (there are many signs)
This shady, popular swimming area on the southern side of Echo Lake in Mount Desert is staffed with a lifeguard from Memorial Day to Labor Day. The water is much warmer than other swimming holes, which makes it popular for families. Your children will likely even find another group of kids their age to play with.
Free with daily, weekly or annual park pass.
55 West St., Bar Harbor
963-2341
Experience what it's like to be a Downeast lobster fisherman on Captain John Nicolai's lobster boat, Lulu. He'll take you to haul lobster traps, stop by a seal colony and share some local history on this 2.5-hour ride through Frenchman Bay.
Boat departs at 10 a.m. and 1 p.m. from Harborside Inn in Bar Harbor. Book online or call for reservations. Kids 0-2 ride for free; ages 2-12, $20; active military and seniors over 65, $30; regular adult, $33.
33 Kennebec Pl., Bar Harbor
288-3828
More likely than not, you will have (at least) one rainy day during your trip to Mount Desert Island. It may rain for a few minutes or several hours, but when it happens, it is quite beautiful and serene. Unfortunately, the kids probably won't think so, and you'll need to entertain them.
Round them up and take them to Reel Pizza in Bar Harbor, where kid-friendly movies play several times per week in the summer. Order pizza, nachos or other snacks and sit back and relax in the theater's plush seats. (There is wine and beer for mom and dad, too.)
Tickets for all ages and showtimes, $6; $55 for 10 tickets (not applicable during special events). Pizza by the slice from $2.50; whole pizzas from $13.50.
Park Loop Rd., Seal Harbor
276-3316
This is probably one of the most touristy tourist attractions in the park, but there is a good reason for that. Bring the dogs, kids and grandparents for an outdoor lunch overlooking some of the island's most beautiful scenery.
The kids will love to run up and down the hill to the pond and back up to the picnic tables (they are guaranteed to have a long nap after that), and devour the popovers à la mode. Adults will appreciate the chance to sit and relax with a glass of blueberry lemonade and baked brie.
Reservations recommended, especially for larger groups.