Art glass tradition burns bright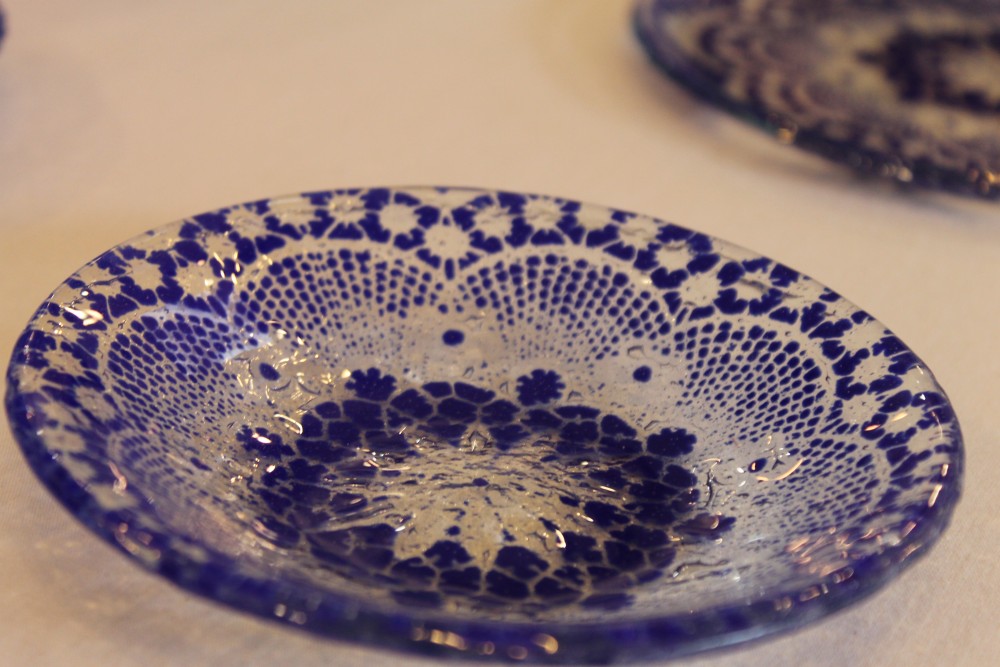 For decades, flower and doily-patterned glass plates have graced many Schoodic Peninsula homes and beyond.
The vibrant, one-of-a-kind glass tableware is the creation of
Lee Fusion Art Glass Studio on Route 186 in South Gouldsboro. The art glass enterprise was founded nearly 30 years ago by Rod Lee in Winter Harbor.
Built in 1881, the trim white clapboard originally served as South Gouldsboro village's post office. That year, Wayne Taylor and Sheldon Bickford purchased the building and a neighboring property that is now their home. The former post office had functioned as the Old Post Office Restaurant.
Taylor and Bickford reopened the Old Post Office Restaurant where  Rod Lee was regular customer.
"Rod Lee used to come every single day or just about and we got to know him pretty good and we would talk back and forth," Taylor said. "He would send clientele up here, then eventually he brought a bunch of plates up and we put them on the wall in the restaurant. They were beautiful and a nice addition and, you know, we were flattered."
Eventually, Lee became ill with cancer and developed other health problems. When the glass artist became less mobile, Bickford and Taylor would being him dinner after the restaurant closed around 8 p.m.
"Each time we would come over, Rod would say, 'Could you boys come in here and lift this and do this'" Taylor said. "Then he would show us repeatedly and we got the feel for it over a period of time and we even discussed at that time to buy his business."
After Lee died, Bickford and Taylor formerly acquired the glass business and moved it to its present home.
"We continued his legacy by keeping his name and his processes and his colors and some of his patterns," Taylor said.
"His customer base from 1985 still comes…it's amazing the following that Lee Art Glass has," Bickford said. "We are very proud that we can maintain their sets."
Inside the shop, meticulously crafted glassware adorn shelves and tables. The pieces are fired in three ceramic kilns in the rear of the building. The original maple hardwood floors creak underfoot as Taylor walks around noting various pieces. The glassware ranges widely from coasters featuring lobsters to fruit bowls depicting the Winter Harbor Lighthouse.
The art glass is created from from window glass that Taylor cut himself. Then after a design and color have been chosen, the glass is fused together in a 1,500-degree F kiln. The colorful designs are either made by stencil or with crocheted dollies. Crushed powder glass with enamels is used to tint the glass and bring the designs to life.
The two estimate that the shop holds about 75 different styles.
"You would not know the difference between Sheldon's work and my work," Taylor said. "When we do a design we agree on a method and stick right to it."
Since taking over the business, the pair has opened a second shop, which is in Mount Dora, Fla., where they spend their winters. They close up their shop in Maine around Oct. 15 and open their Florida store by the last week of October. But even with this expansion (which includes shipping all over the world) Taylor says he wants to keep the business small.
"I refuse to go big and turn it into manufacturing," Taylor said. "It's a two-man operation and I'm satisfied with that."