Atlantic salmon's plight focus at hatchery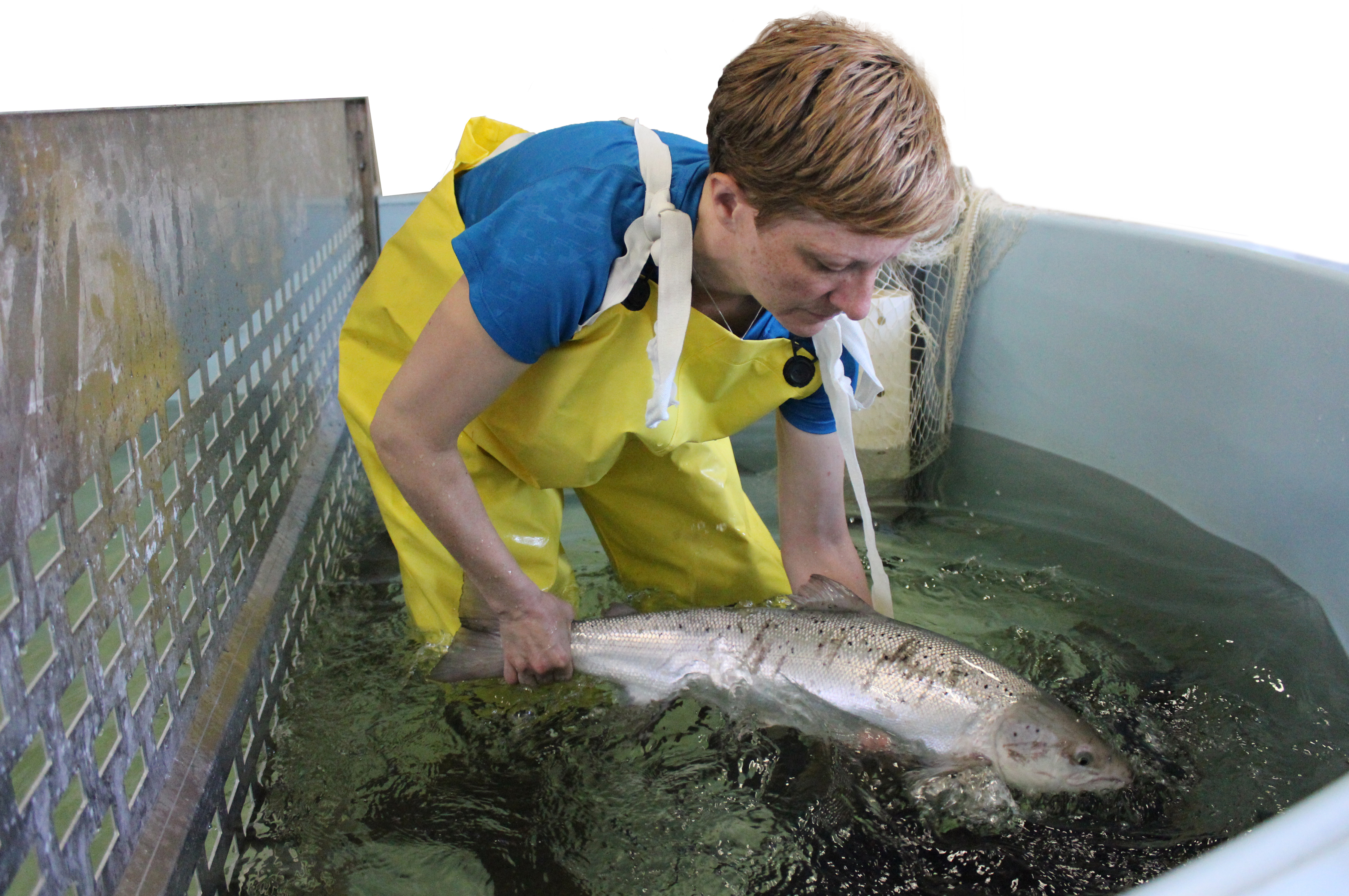 The Craig Brook Fish Hatchery in East Orland is celebrating its 125th year of Atlantic salmon restoration this year.
Very few fish showed up to the party, though.
By mid-June, 64 salmon had returned to the Penobscot River.
"It's early to say it's very bad, but it's definitely low for this time of year," said Chris Domina, the hatchery's assistant project leader.
Atlantic salmon were listed as endangered under the Endangered Species Act in 2000, and the number of native salmon remains "perilously low," according to the U.S. Fish and Wildlife Service.
"People might be saying, 'How come it hasn't worked?'" said Peter Santavy, the hatchery's project manager. "We're working at it. We have a lot of things against us."
From global warming to human activity and pollution, the list of reasons few salmon return to Maine each year is long, and there is no easy fix. The hatchery fights impassable dams that make it difficult or impossible for salmon to return to their home rivers to reproduce.
Salmon spend from two days to two years in their home rivers before they swim to the ocean. When the fish are ready to reproduce, they stream back to the same river. The scent guides them home.
"They have the ability to actually smell their home river," Santavy said.
Volunteers Pat and Mike Brooks give visitors a taste (or smell) of this process when they come to the hatchery. The couple ask kids to smell vials with different scents, like root beer or vanilla. Larger amounts of the same scents are placed around the visitor center and labeled with rivers' names. Then, the pseudo-salmon use their noses to hunt for their "home river."
Because of salmon's strict allegiance to its birthplace, fish in the facility are divided into rooms specific to their home rivers. This keeps their genetics pure to their habitat. The hatchery houses fish from the Penobscot River and six Downeast rivers — the Machias, Dennys, East Machias, Sheepscot, Pleasant and Narraguagus.
Each fish is implanted with a PIT tag, or a Passive Integrated Transponder. The tag contains the fish's genetic makeup and allows the hatchery to track and identify salmon from their release to their return.
Tanks throughout the facility contain fish in different stages of development, from the incubation trays that will fill up come November to a school of fish that has been at the hatchery for three years. The fish will stay at the hatchery until they reproduce once.
"We have excellent survival and success in doing what we do," Domina said. "Our hope is that if we can repair the habitats enough, when that happens, we will be ready."
Craig Brook Fish Hatchery
Where: 306 Hatchery Road, East Orland
Hours: Daily, 7 a.m. to 8 p.m. for self-guided tours
Guided tours: Call to schedule group visits or guided tours
Contact: 469-6701, http://www.fws.gov/northeast/craigbrook/