Baker island is "everybody's secret"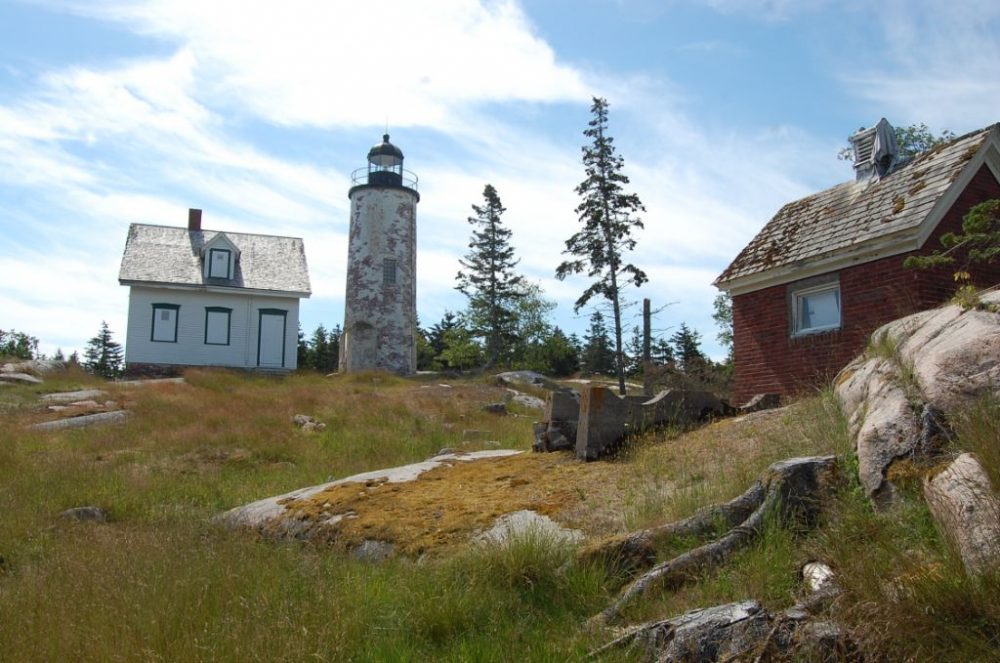 Venture by sea about four miles south of Mount Desert Island, and you'll find a place seemingly frozen in time.
Baker Island, a mostly uninhabited, rockbound isle, is home to the greater area's first lighthouse completed in 1828. Its first settlers, William and Hannah Gilley, "simply took possession of" Baker, whose namesake is not known.
The Gilleys would raise their 12 children — six boys and six girls — on the island whose shoals and sand bar were dubbed a "ship trap" by mariners. Their granddaughter Phebe Jane Gilley Stanley, who died at age 87 in 1929, never left the roughly 170-acre island during the last 36 years of her life.
Part of the Cranberry Isles, a town composed of five islands, Baker now falls partly within Acadia National Park. A park ranger brings alive 19th century-life on the remote isle as part of Bar Harbor Whale Watch Co.'s 4.5- to 5-hour excursion aboard the Miss Samantha from Bar Harbor. There is no commercial ferry service to the island.
Baker also is the subject of a new book, "Baker Island" (2018, Arcadia Publishing, Charleston, S.C.), by Cornelia Cesari.
Cesari owns one of the two private homes on the island. A former teacher and current painter and writer, Cesari said her inspiration to write "Baker Island" sprang from her search for such a book that didn't exist.
Growing up in Wayland, Mass., Cesari's family vacationed at the Appalachian Mountain Club's Echo Lake Camp in the town of Mount Desert during the 1970s. The camp hired a vessel to take guests out to Baker every Wednesday. The group would hike across the island and have a picnic.
"We would leave the group and wander around the island in a dream state," Cesari recalled.
In her mind then, she pictured other little girls who had been on the island before her.
"I snuck into the keeper's house, and I remembered a pink room upstairs," she said. "That really sparked my imagination, and I wrote stories as a child about the keeper's daughter in the pink room. Years later, when I saw that pink room again, I nearly cried."
Visiting the island for the first time, Cesari's late mother, Elizabeth Cushing Kolm, instantly fell in love with Baker's serenity. There was no electricity or running water.
"It was my mother's sanctuary," Cesari said. "She was a solitary soul."
With persistence and being in the right place at the right time, the Kolms were able to buy the one-room island schoolhouse in the 1980s.
The youngest of four girls, Cesari's island summers were idyllic and full of adventure. One time, she fancied a root beer float and ran across the one-mile bar linking Baker with Little Cranberry Island.
Cesari hotfooted it to Little Cranberry's Islesford store. Needing to get back before the tide came in, she said the storekeeper must have thought she was crazy saying, "I need a root beer float, and I need it fast!"
The stretch of barnacle- and seaweed-covered rocks emerges at low tide. Other than on a few perfectly timed full moons a year, it's impossible to stay dry when walking across.
"It gets a little hairy when you are hip-deep and the current gets going," she said. "It isn't to be taken lightly."
Her favorite memories have been watching her own three children, two sons and a daughter, grow up on Baker.
One year they tried to make a raft out of only bric-a-brac found on the shore. They didn't get it very far. A photo shows her three kids standing on the raft nearly 3 feet under water.
Bar Harbor Whale Watch's Miss Samantha doesn't dock at Baker. Passengers are transferred to an outboard skiff that transports them to shore.
Leaving the rocky beach, visitors find their way along a grassy path that skirts the solar-powered Baker Island Lighthouse. Deactivated in 1958, the 43-foot-tall tower's light still sweeps local waters nightly and serves as a sentinel for mariners.
The Baker Island Light has had a long line of keepers who kept the beacon burning bright for decades. Joseph Muise and his family were among them.
In November of 1932, Muise's wife went into labor during a storm. Because he couldn't leave his duties, he called the Coast Guard and five men set out to bring her to the mainland. However, the baby would not wait.
"Two miles from Southwest Harbor," Cesari recounts in her book, "baby Prudence was delivered into the wool peacoats of the surfmen."
To get to the island, Cesari and her family sometimes take a private boat, kayak or walk across the bar. On Baker, they live "sparingly," because there still is no running water or electricity. There is a well, but it tested positive for giardia in the 1990s. They bring drinking water and collect, boil and filter rainwater.
Cesari and her family used to read by candlelight, but now rely on solar power to avoid creating a fire hazard.
During the day, Cesari and her family share the island with visitors from all over the map, but at night they call it their own.
"By late afternoon it's quiet, and the deer come back out, and at night it's just us and the ferries," she said. "It's special."
Sometimes it can feel strange to have so many new faces walking around their home, but Cesari said if she's not in the mood to be with people, she can just go hide. After decades spent there she knows all the best hiding spots.
In addition to her personal relationship with Baker, Cesari appreciates how Baker has affected so many other people's lives. She's met people visiting who go there every year to celebrate their anniversary, who are celebrating their wedding, or they're on Baker to spread a loved one's ashes.
"For such a tiny island, it just has this inordinate value to so many people, and it's just interesting to think this little 100 acres is so beloved by so many people," she said. "There's something magical about it."
Looking forward, Cesari would like to see attention turned toward the island's buildings. She said the lighthouse is in desperate need of repair. Lighthouse Digest keeps a Doomsday List of endangered lighthouses, and she said the lighthouse on Baker is in jeopardy of being placed on it.
But for now, Cesari said she appreciates how many people hold Baker Island dear in their hearts.
"It's everyone's special place," she said. "It's everybody's secret."
Getting there: Bar Harbor Whale Watch Co.'s Miss Samantha departs from 1 West St., Bar Harbor. To purchase tickets, call 288-2386 and visit www.barharborwhales.com.
Cesari's book "Baker Island" can be purchased at www.keepersofbakerisland.org. All proceeds help to preserve the island.
Keepers of Baker Island
Seven years ago, Cesari and four other either seasonal inhabitants or supporters founded the nonprofit Keepers of Baker Island to help safeguard its future. The first year the group launched an initiative to clean up the island and collected old lobster traps, buoys and trash that had washed up on the shore. More than a ton of waste was hauled off-island.
Along with Lighthouse Digest, Cesari's group has held ceremonies to honor lighthouse keepers. The Coast Guard absorbed the U.S. Lighthouse Service in 1939. Before that, lighthouse keepers were not considered military, so the nonprofit's members have placed markers at the keepers' to recognize their sacrifice.
The group has slowed the spread of spruce trees across the island. The tree growth had almost completely obscured the lighthouse's light. Because Acadia National Park owns most of the island, the group worked closely with the park to "restore the historic vista."
The group also mows the grass and restores and repairs graves in the island's cemetery.