Blue Hill Mountain offers plenty even in the fog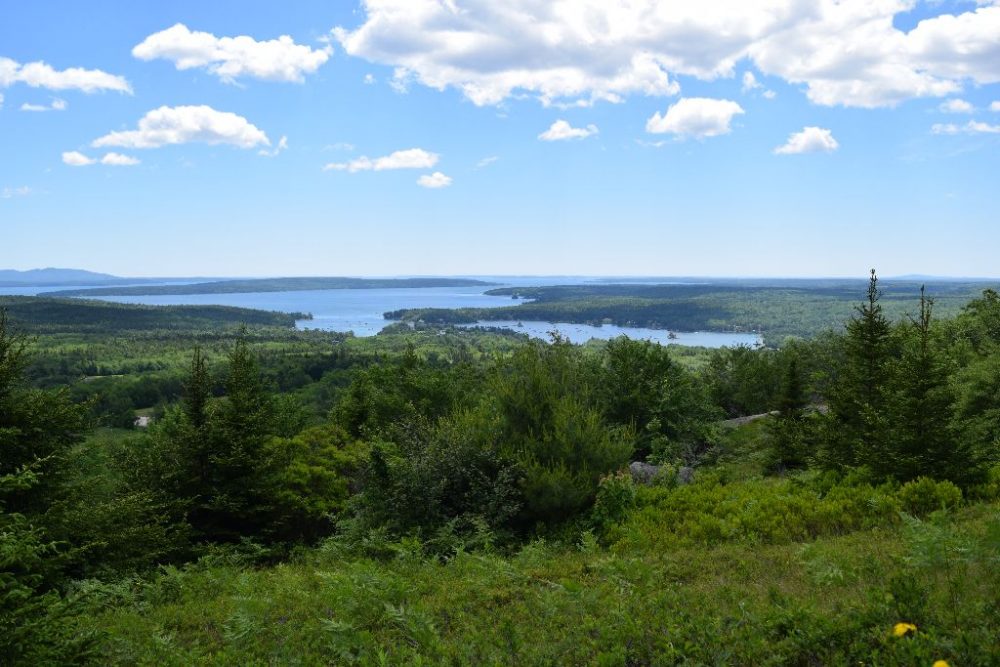 We began our hike up Blue Hill Mountain where most new adventures begin: in a parking lot. A green meadow filled with lavender, indigo, white and pink lupine spread out in the foreground. The tree-lined trail gradually ascended toward the summit before the scenery disappeared into thick white fog.
Leading the way was Blue Hill Heritage Trust's Blue Hill Mountain steward Merrie Eley, who hikes the mountain's six trails three days a week year-round to ensure they are safe for visitors to explore.
Families have a lot to seek on the mountain, which offers sweeping views of Blue Hill Bay, the Camden Hills and Mount Desert Island at the 934-foot summit.
"I hike all the trails regularly, keep track of their condition, fix things that I'm able to fix," Eley mentioned while approaching a pair of benches and a small wooden kiosk after a quarter-mile trek through the meadow. "This is a multipurpose mountain. In the winter, you'll see kids, teenagers here snowboarding or families sledding with their little kids."
Blue Hill Heritage Trust manages five of the mountain's six trails as part of its 27 holdings across Blue Hill, Brooklin, Brooksville, Castine, Penobscot, Sedgwick and Surry. The preserved properties' scenery varies widely from Caterpillar Hill's sloping blueberry fields to Peter's Brook Trail's waterfall.
Before taking the Hayes Trail up the mountain, Eley stopped by a kiosk where hikers can consult a map and scribble their names on a sign-in sheet. The Trust tracks the number of visitors and uses the stats to apply for related grants.
On the Hayes Trail, named after a conservation-minded local resident, Ruth Hayes, who donated a large tract on the mountain's eastern slope in 1977, the terrain swiftly changed from the field of wildflowers below. With fog enveloping it, the trail cut through unripened blueberry bushes, where the calls of towhees, warblers and goldfinch could be heard.
Members of the Abenaki Native American tribe likely were the first people to follow the footpaths and clamber over the mossy boulders on the mountain they named Awanadjo, meaning "small, misty mountain," centuries ago.
"Some people just come to the mountain for spiritual nourishment, and there's people who believe that the mountain has sort of mystical powers," Eley related while passing through woods on a steep slope. "I come here for exercise, but also because I just love observing everything in nature."
Catching our breath on a stone outcropping, not much was visible besides the towering pines and the cell tower a few hundred feet away.
It's "a quintessential [foggy] Maine day," Eley declared, painting a picture of what would have been visible had the fog lifted. Penobscot Bay and the Camden Hills to the right. Blue Hill Bay and Long Island straight ahead. Acadia National Park to the left.
"I've come up here when a friend has passed away with a group of friends, and we'll sit here on these ledges and just sing and think of that person," Eley continued. "It has kind of a spiritual feeling."
Eley has a strong connection with this particular mountain. She and her husband, Don, raised their two boys, Sam and Ben, now both in their 20s, at its base. The boys grew up finding various ways to explore the mountain with their parents.
"From my house, we see the mountain," said the mother of two. "It's kind of in our backyard, and it's one reason why I'm so compelled to be here all the time. It's just constantly calling to me."
Eley is no stranger to peaks and valleys. She was raised by mountain-climbing parents near New Hampshire's White Mountains. After graduating from Colby College, she and Don sailed in the Caribbean for eight years. They took care of a yacht belonging to the owner of the T.G.I. Fridays restaurant chain and saved enough money to build their own house in Blue Hill in 1989.
"When we were looking for a place to settle down and live on land again, this was the place that called to us," Eley said. "It had the mountains, and it had all the nooks and crannies that the Maine coast has for boating."
At first, the Eleys didn't know what they were going to do career-wise, but they made it work. Don teaches at Maine Maritime Academy, and Merrie is a part-time early childhood educator at The Bay School, an independent Waldorf school in Blue Hill.
Four years ago, she volunteered for Blue Hill Heritage Trust as part of her training to become a Maine Master Naturalist through the Maine Audubon Society.
"I really feel strongly that I just want to excite people to go out in nature and appreciate it," Eley said. "There's a lot of healing power to being out in nature."
Ahead on the trail, the bushes parted and the summit emerged. Children's laughter and a man's operatic singing could be heard. Birds chirped and animals scurried. We couldn't see them, but the mountain teemed with life.
Eley pointed out some of her favorite spots on the mountaintop. A worn wooden bench, where she sits every Friday to celebrate the end of the work week; remnants of an old fire tower dismantled by her sons when the National Park Service ceased funding it years ago; the year "1856" carved into the summit's granite surface; and the spot where a friend spotted a snowshoe hare.
Then, Eley led the way down the mountain via the Tower Service Trail. The half-mile footpath was easier than the Hayes Trail. Along the way, the mountain's steward pointed out staghorn sumac, raspberry bushes, valerian and wood fern. She also has seen porcupine, black bear and deer along the trail over the years.
Emerging from the woods, the meadow where the afternoon hike had begun swung into view below. Eley pulled out a piece of paper with a short quote from John Muir written in pink pen.
"'Everybody needs beauty as well as bread,'" she read aloud. "'Places to pray in and play in. Where nature may heal and give strength to body and soul.'"
She paused and looked out over the meadow resembling a carefully composed painting.
"I think that kind of epitomizes this place," she said.