Brooklin Candy Co. specializes in caramels, chocolates, popsicles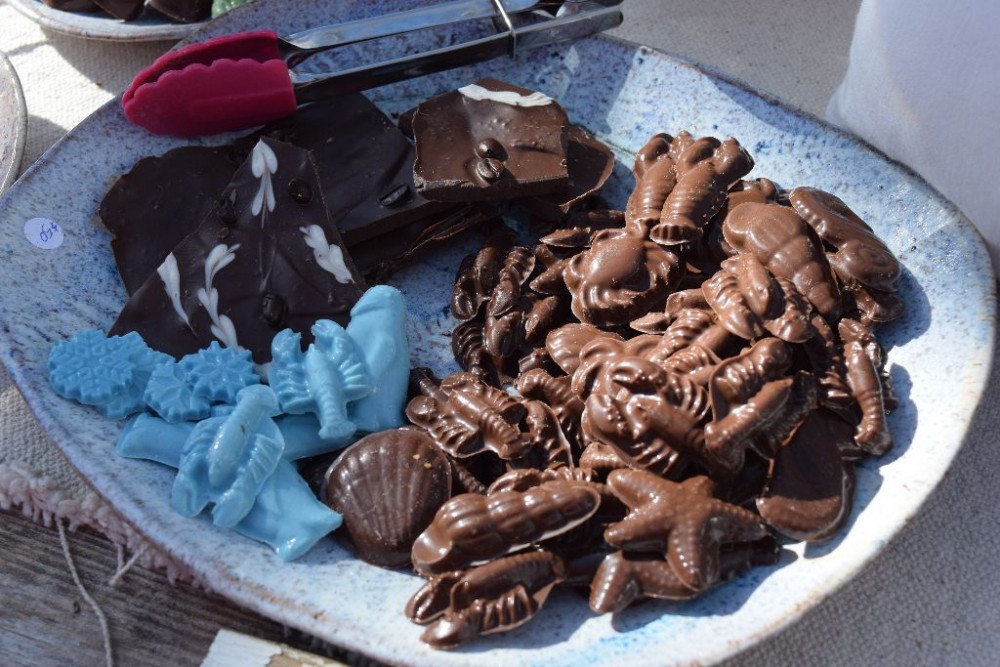 Blossom Kravitz's route to starting the Brooklin Candy Co. was serendipitous.
The New York native made sea salt caramels for a friend's birthday last November.
"Instead of making 20 of them, I made 120 of them," Kravitz said. She gave them away to friends and family who told her she should start a candy-making business.
So she did.
"They are organic, and I think that's one of the differences you can really taste in them," Kravitz said.
She tries to use as much fair-trade chocolate as well as local ingredients.
The sea salt caramels are made with Eggemoggin Salt Works salt, which is produced in Deer Isle.
While caramel and sea salt works, so does a marriage of chocolate and coffee.
To that end, Kravitz is creating miniature chocolate lobsters with espresso from Bucklyn Coffee in Blue Hill.
She's created a "Coffee Bark," with her chocolate and Bucklyn's "0-Dark-30" brew.
In summer, Kravitz makes popsicles too. She also makes holiday-themed chocolates using candy molds. Before St. Patrick's Day this year, she shipped an order of green chocolate shamrocks to a group of Boston firefighters.
For Valentine's Day, she created chocolate hearts as well as blue chocolate lobsters, since blue lobsters are one in a million, Kravitz said.
Accurate measurements of ingredients for candy are crucial.
"The chocolate will get grainy, separate, or seize up," the candy maker explained.
So, in making candy "there's a lot of trial and error," Kravitz said. Chemistry was one of her favorite classes in high school and that knowledge has helped her.
Find the Brooklin Candy Co. at the Brooklin Farmers Market, 11 a.m.-2 p.m. Thursdays, Brooksville Farmers Market, 9:30 a.m.-noon Tuesdays, Deer Isle Farmers Market, 9:30-11:30 a.m. Wednesdays and the Sedgwick Farmers Market, 9 a.m.-noon, Saturdays. For more info, visit www.brooklincandy.com