Check out the jams and a storybook village at Nervous Nellie's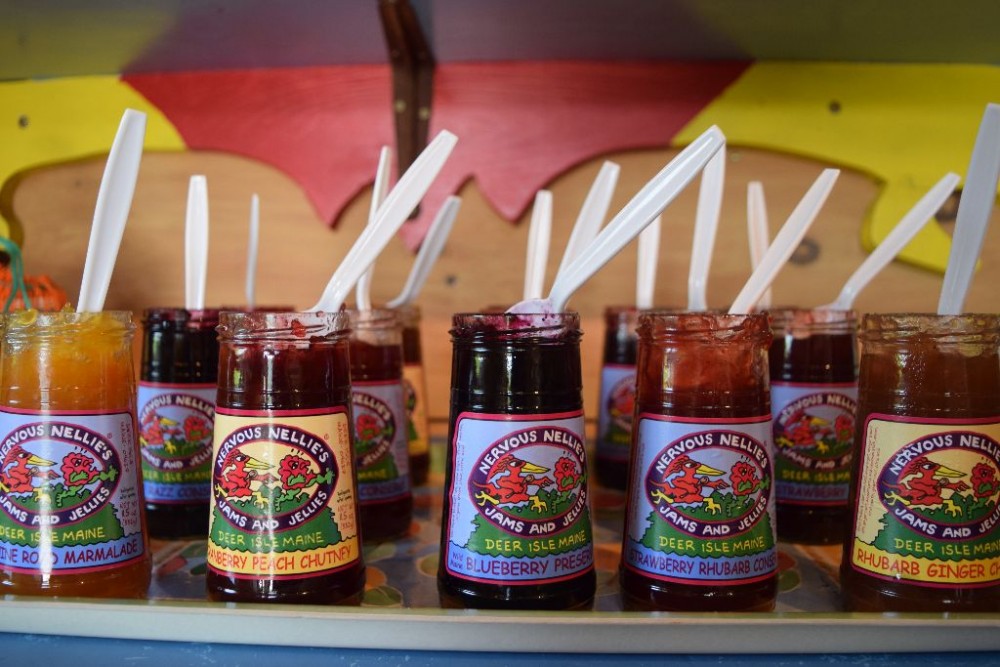 On a sunny morning in Nervous Nellie's kitchen, cooks Emma Merritt and Patty Heanssler are up to their elbows in blueberry jam.
"We work all winter for summer and all summer for Christmas," Patty explained.
Although the Deer Isle company is called Nervous Nellie's Jams and Jellies, toast toppings are just one facet of Sunshine Road establishment. Owners Peter and Anne Beerits also maintain a store, a café and a sculpture garden of sorts.
Anne, a native of Morristown, N.J., oversees the jelly making and most of the day-to-day operations, while Peter, who hails from Radnor, Pa., creates the recipes and the ever-expanding Nellieville.
The whimsical Wild West-style town consists of one- and two-story wooden structures that Peter built. The dwellings are inhabited by life-size characters and feature props created by the sculptor.
Nellieville, for instance, even has its own jail with real bars from Lewiston jail cells. The hotel room has a working piano.
In Nervous Nellie's actual store, visitors can sample every flavor of the 15 different jams, jellies, chutneys and marmalades. The choices are wide-ranging from mango chutney and hot pepper jelly to blueberry ginger conserve and Sunshine Road marmalade. Maine-made crafts also are sold.
After shopping, customers can pop in the café in the back of the store to enjoy a cup of coffee or warm scone at one of the cheerful light blue or green tables.
Patti, who lives in the Deer Isle village of Sunshine, has cooked at Nervous Nellie's for close to 20 years. She has one son, Joe, who, incidentally, is dating Emma. That's how Emma came to work there last spring.
The couple are proud that 90 percent of all their products are sold either in their store, by phone or online rather than shipped wholesale.
"We've never wanted to make a killing in the jam world," Anne said. "The objective has never been fame and riches. It's more about creating a livelihood that is fun and sustainable, both for us and our employees."
"Jelly" is the term used in the company name, but Nervous Nellie's sells mostly jams, conserves and chutneys. While a jelly is made with fruit juice, jams are made with whole fruit. Conserves are made with multiple fruits, and chutneys, more savory than sweet, contain vinegar and spices.
Peter develops all the recipes, which are typed — with scatterings of hand-scrawled notes in the margins — and stuck in laminated pouches that live on a clipboard in the kitchen.
Patty and Emma take it from there. A batch of jam takes two days to make. On the first day, the cooks boil the proper fruit and sugar together and then set it aside until the next day, when they add any other ingredients and mix it all together in the 5-gallon kettle.
Nervous Nellie's uses as much Maine fruit as possible, including blueberries, strawberries, cranberries and raspberries.
Once it has been boiled properly — about 20 minutes in the kettle — it is transferred to a hot plate to stay toasty while it is jarred. Heanssler dips a pitcher into the kettle and fills the jars one by one.
Together, the cooks produce about 300 jars of jam, conserve or chutney per day, four days a week.
"The most popular jam is blueberry, and the most popular chutney is hot tomato," Patty said. "People go crazy over it."
Besides the sweet, fruity aroma wafting from the kitchen, Peter's Nellieville also beckons. The sculptor holds a master's degree in sculpture from California State University-Long Beach. The Deer Isle property provided the stage for him to create "environments," or entire structures filled with sculptures and props to make up a tiny world.
Peter's favorite part of the fanciful town is Red's Lounge, a "juke joint" inspired by the culture of the Mississippi Delta.
"When I had Hardy's Store [his first environment] set up, at first no one would come in it. They didn't get it." Peter said. "So then I came and built the juke joint, and everybody came in the juke joint, and everybody came in Hardy's Store and all of a sudden the whole thing worked."
Before Nellieville, Peter created the Grail Castle, complete with figures from Arthurian legends.
Although the Wild West and King Arthur's court may seem vastly different, Peter finds similarities.
"The common thread, I think, is mythology," he said. "There's a huge body of information about what all these people did, but there's no historical record, and to some extent, the information about what they did varies."
His sculptures are made almost entirely out of scrap metal and wood, often salvaged from the dump or given to him by friends who know his style. He keeps a growing stockpile of possible materials in the woods.
Since it opened in the mid-1980s, Nervous Nellie's has gained a loyal following of local and seasonal customers. About 20,000 people are on its October newsletter mailing list.
And the name? No, Nervous Nellie is not a real person.
"[Peter] just thought it sounded like a funny name," Anne said with a shrug.
Down to Nervous Nellie's
Where
: 598 Sunshine Road, Deer Isle
Getting ther
e: Take Route 15 to Deer Isle. On the island, after about six miles, turn left on to Sunshine Road. Nervous Nellie's is about three miles on the left.
Hours
: Open daily, 9 a.m. to 5 p.m., through mid-October.
Contact
: 1-(800)-777-6845,
www.nervousnellies.com