City by the bay has something for everyone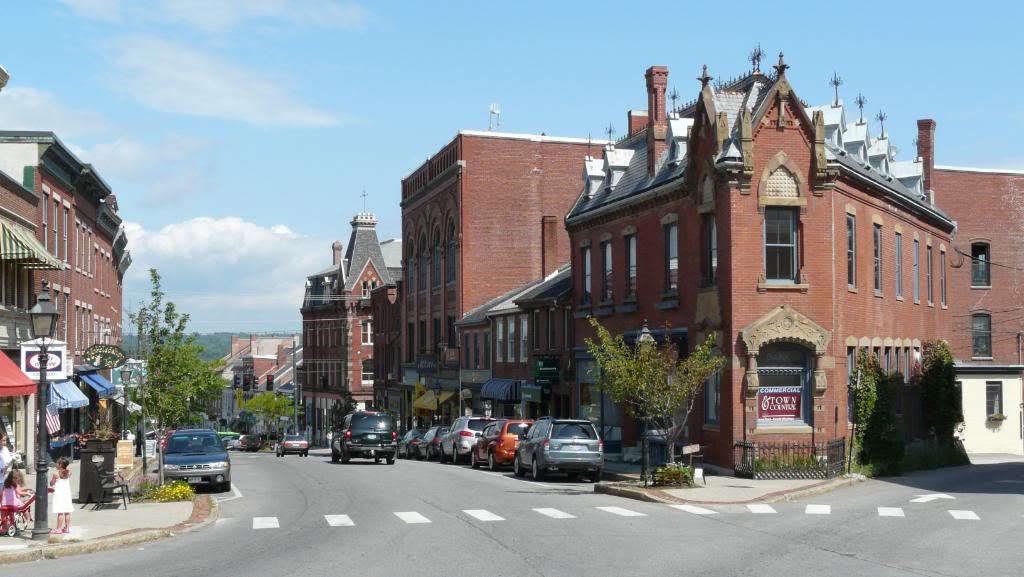 Within a short stroll's distance from the intersection of High and Main streets in the heart of downtown Belfast, visitors are likely to find almost anything their heart desires.
From a new pair of sandals at Colburn Shoe Store (America's oldest such business, it proudly proclaims) to a BPA-free water bottle at The Green Store (which bills itself as a "General Store for the 21st Century"), Belfast's got it.
Arts and crafts more your thing? Pick up some wool felt at Fiddlehead Artisan Supply or a skein of colorful yarn at Heavenly Socks Yarns. If it's on your shopping list, you can even get some new underwear at City Drawers (for her) or the newly opened Man on Main (for him).
There's a similarly broad spectrum of choices on the food front. Whether it's a burger and a beer (check out Rollie's Bar and Grill, one of several local watering holes) or a Mexican dish (try La Vida), there's no shortage of choices.
Bay Wrap offers everything from the Pesto Wrapture to Eggplant Wrapsody, while Moonbat City Baking Co. offers fresh-baked chocolate, almond and savory croissants, among other tasty choices.
Out On a Whimsey and All About Games have lots of kid-friendly products, while there are several bookstores (Bellabooks, Old Professor's Bookshop and Left Bank Books) for reading enthusiasts to peruse. The Cool Spot offers ice cream treats to enjoy in between shopping.
On High Street, City Councilor Mike Hurley and his wife, Therese Bagnardi, have run the Colonial Theatre for two decades. The three-screen cinema features an art deco look and a funky Belfast spirit (a fake but full-size elephant named Hawthorne is perched on the theater's roof).
While that covers many of the downtown businesses, it's by no means a complete list. Not bad for a city of just under 6,700 people.
And while some of those businesses have been there for many years (i.e., Colburn Shoe), they have been joined by newer, more recent arrivals.
"Belfast is really blossoming," said Terry St. Peter, a former Belfast city manager who now runs three businesses on lower Main Street (office supplies, copies and photography).
There have been times, however, when the bustling downtown of today's Belfast did not seem like a sure thing.
Route 1 used to carry all coastal traffic through the heart of downtown Belfast until a bypass was built in 1962. The Belfast Historical Society & Museum notes there were fears the bypass would be a "death knell for a once-vibrant shire town."
The decades that followed saw the decline and eventual demise of the chicken processing business that had been Belfast's lifeblood (it billed itself as the "Broiler Capital of the World" for a time). As those major employers shut down it sometimes led to empty storefronts downtown, but that's not the case today.
"Storefront spaces continue to be occupied," St. Peter said. "Even if someone does go out for one reason or another, that vacancy is filled almost immediately."
Instead of chicken processing, major employers in Belfast today include health technology company athenahealth and Front Street Shipyard, located on the site of a former sardine cannery on the waterfront.
St. Peter called the shipyard a "major new component of the downtown." Visitors to the city's waterfront can get an up-close view of the facility by walking along the Harbor Walk, a broad, flat walking path completed in 2013 that stretches along the city's active harbor.
St. Peter also credited the new growth in downtown business activity to "a new, aggressive attitude on the part of downtown merchants," organizing and banding together for the advancement of the downtown as a whole.
Belfast, for example, was designated a "Main Street Maine" community in 2011, as part of a downtown revitalization program overseen by the Maine Development Foundation.
Our Town Belfast is an organization born out of that designation. It seeks to "grow and sustain our historic downtown while celebrating our unique cultural heritage."
In a blog posting from earlier this year, Our Town Belfast Executive Director Bre Bebb ticked through a list of new businesses in the city's downtown area — including a juice bar and two children's clothing stores, among others — and encouraged both new and returning visitors to explore.
"Stop in at your old favorite stores and restaurants, but remember to explore a little," she wrote. "You may be surprised at what you find along the fringes of Main Street, just a block or two away in any direction from the traffic light."
Places To Go, Things To Do
Belfast City Park: Established in 1904, the park now features a public pool, playground and picnic spaces (both open-air and sheltered). Located on Northport Avenue just a mile from the heart of downtown.
Walsh Field Recreation Area: Located on Route 52, just outside the Route 1 bypass and also a mile from the center of the downtown, this space includes baseball and softball fields and a dog park. It also serves as the trailhead for a network of trails (Geocachers, bring your GPS devices).
Moose Point State Park: Located in the adjacent town of Searsport (but only a 4-mile, 10 minute drive from Belfast's downtown), the park features picnic areas at the water's edge and a waterfront trail with great views of the Penobscot River and Belfast Bay. Bring your binoculars to watch birds or tankers heading to the nearby port at Mack Point.
Belfast Historical Society & Museum: Located at 10 Market St. in the downtown, the museum features exhibits about the city's past and famous residents (such as aeronautical pioneer Capt. Albert Stevens). It's open Tuesday-Saturday from 11 a.m. to 4 p.m. from June 14 until Labor Day. From Labor Day to Columbus Day, it's open Fridays and Saturdays from 11 a.m. to 4 p.m. FMI: www.belfastmuseum.org.
Belfast Farmers Market: Runs from beginning of May to end of October, on Fridays from 9 a.m. to 1 p.m. at Waterfall Arts (256 High St.). Farmers, bakers and artisans from around the Midcoast region gather to sell their wares. On first Friday of each month, market relocates to the Tarratine Tribe building on upper Main Street. FMI, visit www.belfastfarmersmarket.org.