Climber express love of nature in rope art
A blue bin overflows with thousands of feet of climbing rope like a mountain of spaghetti. Atop a desk, canvas sprawls. The fabric is covered in Sharpie sketches of trees, a curving brook, hills and mountains; the scene is of a backcountry campsite in a valley.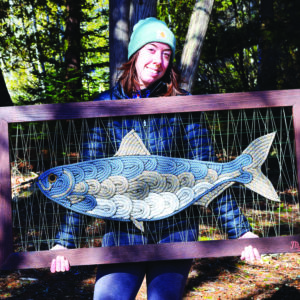 Mischa Ostberg switches on the boxed-shaped, electric cutter on her work table. Hunched over, she holds a length of orange climbing rope to the cutter's heated knife. Smog rises from the cut, charred fiber. Wearing a face mask, the artist avoids breathing in the chemicals. In a moment, the strand slices in two. Next, she takes a bottle of Gorilla Glue and applies the glue lightly over a tree's outline. She presses the rope piece down on the material. One down, hundreds more to go.
Ostberg creates "rope art" in the form of pictures composed of old climbing rope. Working in a medium that is intrinsic to mountain-climbing, the 29-year-old climber strives to convey real and imagined mountainous landscapes. Many are of actual places such as California's glacial-formed Yosemite Valley or Maine's Mount Katahdin in Baxter State Park. She also does commissioned works.
"I just had this stockpile of different [rope] pieces, and I just thought 'why not do something with this?'" Ostberg said. She works as a retail manager and hiking guide at Alpenglow Adventure Sports and Acadia Mountain Guides in Bar Harbor. As part of her job, she cuts climbing rope. She wanted to think of ways to repurpose the vibrant-hued scrapes into something others would find beautiful.
Besides rope, the Southwest Harbor woman incorporates discarded picture frames and necklaces, wall hooks and other elements in her artwork. In one piece, a rope alewife fish swims in a web of fine ice fishing line secured to the picture frame. She has found frames inside dumpsters and beside the road.
"I just clean them, and I repurpose them," she said of the frames. "And it still has life, it's still a piece of wood that was taken from a tree. I just kind of see it as extending the life of something and keeping it out of a landfill, and still being something that people can enjoy in some way."
Ostberg's rope pictures aren't the first projects others have commissioned from her. Growing up outside Chicago in the 1990s, she sold cartoon drawings, like the creatures from the Pokémon video game series, to her elementary school classmates. Her peers exchanged pennies, gum, stickers and eraser heads for her illustrations.
But during her college years in the early 2010s, Ostberg started to devote more time to athletics. Over the past decade, she has enjoyed running, powerlifting, CrossFit strength workouts and playing lacrosse at Augustana College in Illinois.
In the summer of 2016, Ostberg moved to Maine for a seasonal position at the Schoodic Institute in Winter Harbor. Exploring a new part of country, she worked there as an education and adventure ranger. She also was game to try out new outdoor activities. Settling on rock climbing, she found a tour guide in Acadia National Park and scaled Otter Cliff. The climbing resonated with her like no other sport.
"Climbing was a really cool sport to pick up," she said. "I need to practice but also mentally be strong … I've been able to muscle my way through everything else."
For the past five years, she has practiced climbing at gyms while living in Utah and on Mount Desert Island. She moved back to Maine last summer. It was working at Alpenglow that proved the catalyst for combining her artistic skill and love of climbing.
In December, Ostberg completed her first rope picture of Delicate Arch in Utah's Arches National Park. The piece was a Christmas gift for her husband, Eric Bogenschutz. Using rope from Home Depot, she cauterized it with a cigarette lighter and snipped it with scissors (at the time, she didn't have a means to cut climbing rope).
"This was painstaking," she said. "And after I made this one, I thought of ways I could improve it."
After making more pieces — with actual climbing rope — Ostberg began to connect with the local outdoors and climbing communities. Whether they saw her art on Instagram or heard about it from a friend, they started commissioning works. In some cases, some have provided their own rope to use because it means something to them.
"These saved other people's lives," she said, referring to the climbing rope. "Knowing the story of the rope is really awesome … It really inspired me honestly to be able to create pieces that can reflect where the ropes have been." For her piece of Mount Katahdin, for example, she used rope that was used at Maine's tallest mountain.
Through trial and error, the artist continues to experiment and improve. For instance, she is deliberate about the colors she uses; she wants to pick the right rope to replicate the bristles of a tree branch or a stone's rough surface. She even added teardrop glass beads to rope so it glistened like water.
Working with rope, Ostberg's has been able to unify her love of art, outdoor environments and rock climbing.
"There's life for these past just climbing," she said about the discarded rope. "I think most everyone can get enjoyment out of what I'm using the rope for."
For those interested in her rope art, you can reach Mischa Ostberg at [email protected] or check out her Instagram, @east_mountain_designs. Her rope pictures also can be seen at the Acadia Outdoor Center, 18 Main St. in the Mount Desert village of Seal Harbor.