Coffee shop, tap room retain local character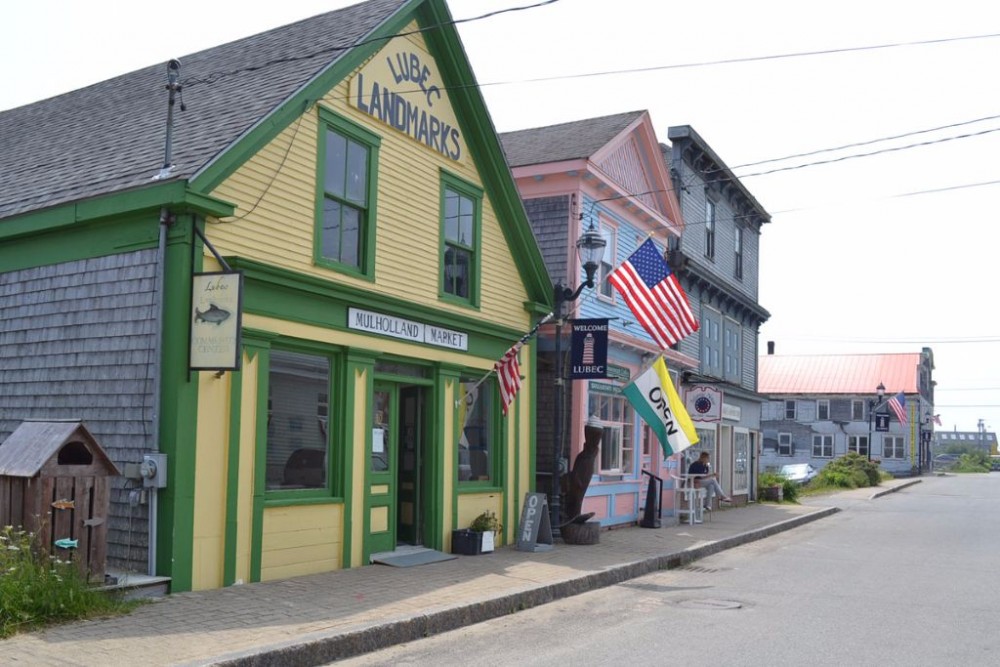 When Gale White bought the pink and blue coffee shop on the waterfront, the former medical products executive envisioned eventually turning the old clapboard storefront into a microbrewery.
Atlantic House, with its deck overlooking the ocean and fog-shrouded Campobello Island, seemed a scenic setting for people to relax and take in the scenery over a Day's First Light or another fine microbrew.
But three years later, No. 52 Water St. remains the place to enjoy a steaming cup of coffee, homemade blueberry, cranberry-orange and "better morning" muffins, juicy hamburgers and other breakfast and lunch fare.
"The town didn't have a place to eat breakfast," says White. "I couldn't justify taking out the chairs I had added to put my brewing tanks in. It felt wrong to kill a business that was really just taking off for another business."
White managed to do both. He found another home for Lubec Brewing Co. Across Water Street, he remodeled and installed his brewing operation at No. 41. The microbrewery and tap room opened in the last spring this year.
Before moving to Maine, White brewed beer as a hobby for a decade in eastern Pennsylvania. His day job was vice president of infusion systems marketing for B. Braun Medical Inc. in Bethlehem, Pa.
While he enjoys summer in Lubec, what really captivates him is the easternmost town's wild beauty in winter.
"It's a different type of beauty. Ocean looks gorgeous after a snowstorm," said White, who also appreciates how local residents pull together. "If somebody needs help shoveling snow or has car trouble, there's someone there to help them."
Inside the tap room, White notes the old sewing machine, maps, rocking chairs, framed black-and-white photographs and other pieces and furnishings contributed by local residents.
"I'm touched. I expected tourists to come, but I'm overwhelmed with the support of locals coming in to buy beer," he said. "I've never been in a place where the people pulled together like this to support each other."
In that same spirit, White is reciprocating by using Maine-grown barley and sourcing hops from 10 local farmers. He also factors in the local drinking water's characteristics in his brewing techniques and recipes.
"Rather than forcing my style to it, I'm trying to find what works here," he said.
Quoddy Head Red, an Irish red ale named for a distinctive red-and-white striped lighthouse built in 1857, "works really well" with local water.
The malty and smooth ale, which has hints of chocolate and bourbon, has become the microbrewery's most sought after beer. Its distinct flavors come from combining four types of barley, all roasted differently.
Day's First Light, a bright yellow and fizzy English bitter, is made with grains from Maine Malt House in Mapleton.
White sought to preserve the historic Water Street building's character.
"That's one of the things that attracted me to it, it still has a historic look," says White. "I'm trying not to modernize it so much. I'd like people to have a sense that they've almost gone back in time."
At the coffee shop, Gale also deliberately chose not to add an espresso machine, and the menu boasts classic American comfort food such as lasagna and macaroni and cheese prepared by the eatery's longtime cook, Shirley Brown.
"I believe people need a break now and then from modern conveniences," he reflected. "It's almost nostalgic. Reminds them of a time when things were simpler and flavors spoke for themselves."
Grab a bite, coffee or beer
* Lubec Brewing Co., 41 Water St., Lubec.
Hours: Friday-Sunday 11 a.m.- 7 p.m. Tel: 733-4555
* Atlantic House Coffee Shop, 52 Water St., Lubec.
Hours: 6 a.m.-2 p.m. Tel: 733-2030