MDI yurts offer forest vacation in the round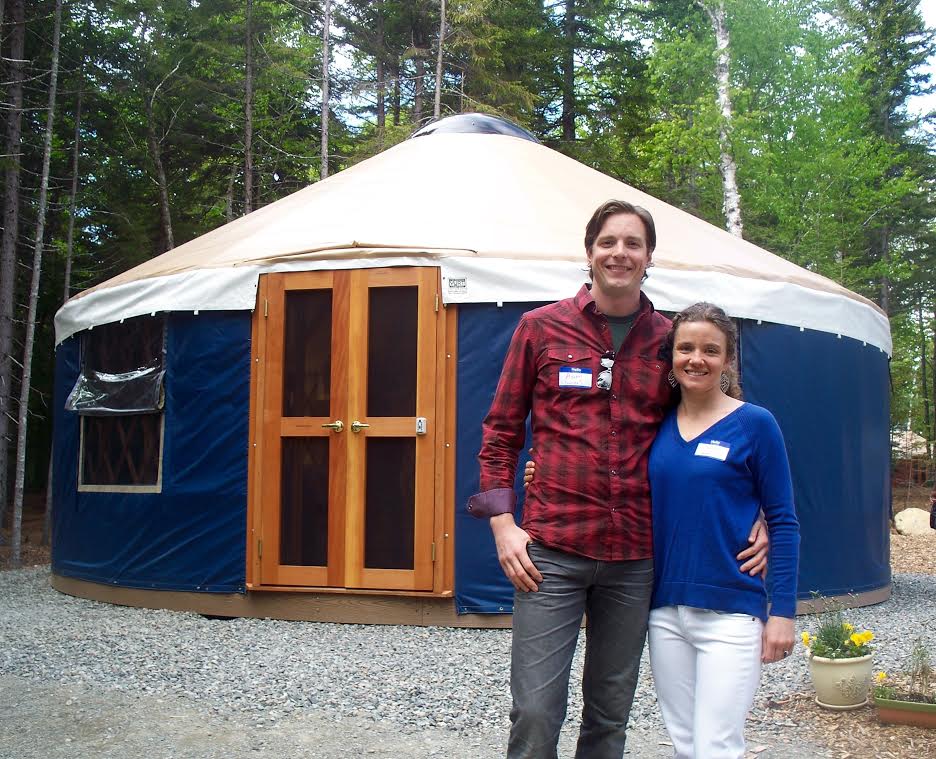 Here's a riddle for you. What combines the healthy camaraderie of an organic farm on Maui, the housekeeping traditions of Mongolia's nomads and the pine-scented, salt air of Downeast Maine?
Until this year one might have confidently assumed that nothing could bring those diverse elements together. But a visit to Aaron Sprague and Karen Roper's newly opened Acadia Yurts on the Seal Cove Road in Southwest Harbor would surely change that doubting mind.
Tucked into the piney woods here, like giant red and blue Easter eggs, are four contemporary, prefab, yurt-style dwellings. Based on the traditional dwellings of the nomadic people of Central Asia, these circular buildings are made with a sturdy, lattice-like frame covered with a heavy-duty canvas and polyester fabric and are nestled between tall spruce and pine trees, connected to one another and a couple of outbuildings by a network of paths.
While they may resemble large tents, each yurt contains a full kitchen, a bathroom, bedroom, sitting and dining areas and between 7.2 and 12 feet of headroom.
The couple have erected their yurts on five acres of well-groomed forested land and recently opened them as weekly rental units.
But, Acadia Yurts, Sprague insists, does differ from other rental cottages, B&Bs, hotels, motels, time shares and campgrounds that abound on Mount Desert Island.
"Karen and I want to offer people that woodsy Maine experience," Sprague says, "But also hope they will find a sense of community here."
He says the yurts themselves have a certain feng shui about them that promotes a peaceful, tranquil mood and they have designed the property as a whole with several fire pits, a community building that has a laundry, extra kitchen equipment (such as lobster pots and juicers) and even a little "take a book, leave a book" library that he hopes will encourage his yurt dwellers to mingle with one another.
This sense of community and shared experience is the Maui connection. Sprague — who was raised in Trenton and Bar Harbor where his mom, Rochelle Sprague, taught elementary school, and is an MDI High School graduate (Class of 2000) and a UMaine grad, met Karen Roper — a Chicago native— about five years ago. Their shared love of travel and adventure led them to something called WWOOF (World Wide Opportunities for Organic Farming) and a saltwater farm on the shores of Maui. In addition to growing vegetables and tending livestock there, they also participated in meditation, yoga and other activities that created a camaraderie among the 30 or so participants.
Had the farm also provided a living wage, Sprague acknowledges that it might have been impossible to leave that Pacific paradise.
Eventually the couple had to return to their jobs in Bar Harbor (restaurants and real estate) to earn money for their next adventure. But they took away with them a dream of one day creating their own peaceful oasis for world-weary travelers to enjoy and rejuvenate their bodies and minds.
It seemed as if that dream was a long way off, until a friend of theirs invited them to visit a yurt he had recently erected on his property from a kit made by the Colorado Yurt Co.
"As soon as we stepped inside we experienced this calming, peaceful feeling," says Sprague, and the seed for the future Acadia Yurts was planted. Within a year, the couple had purchased their own four yurts kits, found their quiet Seal Cove Road property and by the first week of June they welcomed their first customers.
This, Aaron says, is just the first phase of a plan that will eventually include more yurts, a larger community building with a complete spa and space where Karen will teach yoga and they can offer therapy and counseling programs.
Like the yurts themselves, which seem so much bigger on the inside than the outside and offer a view of the tree tops or starry night sky through an aperture-like opening in the domed roof, this fledgling business and its young founders have some big ideas and dreams in store for this five acres of woods bounded only by Acadia National Park and their own imaginations.
Weekly rental rates range from $675-$975. For more information or to book reservations go to acadiayurts.com.