Creativity flows at new ice cream parlor, Pugnuts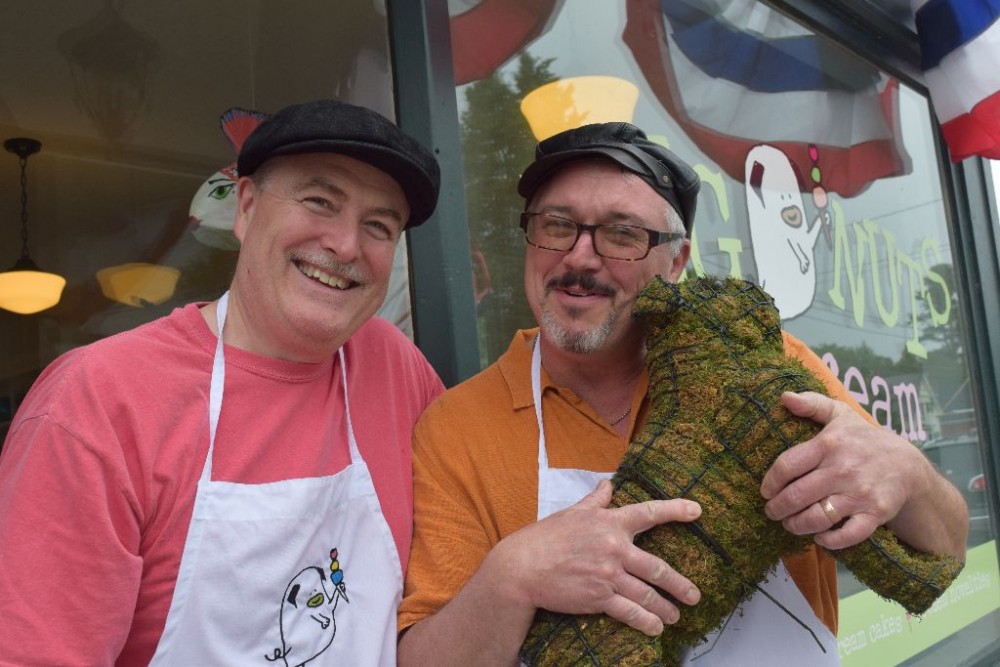 A former estate gardener has traded his pruning shears for an ice cream spatula.
Karl Holmes and his spouse, Eric Treworgy, have opened Pugnuts Ice Cream Shop in the building formerly home to Sweet Pea Gardens' The Flower & Garden Shop at 1276 Surry Road.
Treworgy, a software executive, handles the business end of things while Holmes dreams up flavors for the small-batch artisanal ice cream and gelato, all of which are made on site. However, Treworgy does make ice cream as well.
How about geranium basil gelato? Or grapefruit sorbet? Or is Nutella or peanut butter fudge ice cream more your speed? Nonetheless, the shop has a flavor for everyone.
"We want Pugnuts to be a destination and as such it has to be something very different from everything else," said Treworgy. "Otherwise how do we get folks from Deer Isle or Bar Harbor to come to Surry?"
What about the name Pugnuts?
"For me, it was just a fun, fanciful name that would catch people's attention, and it did," Holmes said. "I used to have a pug. I would have a pug again in a nanosecond, but what I really want is a pack of pugs."
If you've got a pug or another type of canine, the shop makes "puppy cups," which are peanut butter ice cream cups with bacon sprinkles.
Pugnuts' most popular flavors to date include Clam Trax, which is milk chocolate ice cream with a peanut butter swirl, yogurt covered pretzels and Oreo cookie pieces. Or try almond pistachio chocolate Amerana cherry gelato.
Another favorite is salted caramel kettle corn, a Cracker Jack-like ice cream with salted caramel swirl and chocolate-covered corn nuts.
But, Pugnuts also offers oak gelato, made by steeping oak chips. At a customer's suggestion, sometimes Holmes makes it with candied walnuts.
Further gilding the lily, patrons have several choices for cones, including sugar, waffle, chocolate, waffle with sprinkles or, handmade on site, "codfish cones," which feature a Hershey's kiss.
Pugnuts creates ice cream cakes, some with intricate designs such as a log cake featuring a brocade pattern. Custom cakes also may be ordered, but a minimum of 24 hours notice is required, sometimes more depending on what flavors are chosen.
Dietary restrictions are no problem.
Holmes and Treworgy invested in a machine called a Paco Jet, which allows them to offer dairy-free frozen treats as well as an item called Green Velvet.
With the magic power of the Paco Jet, Holmes turns celery, apple, banana, spinach, honey, dates, kale, cucumber, parsley and lettuce into a frozen cup of deliciousness that is Green Velvet.
"I've had people wrinkle their nose at it and after they try a sample, they're buying a pint to take home," Holmes said. "It's probably a full serving of vegetables in a 4-ounce cup."
Holmes said he's still working on a tasty low-carbohydrate frozen treat explaining that just because a product is labeled as "no sugar added" doesn't mean it doesn't contain sweeteners such as honey or agave nectar or something else.
The ice cream shop was conceived as a way for the couple to work together in their own business. One criteria was that whatever the enterprise wound up being, it had to provide a means for Holmes to exercise his creativity.
Growing up, Holmes spent summers on Mount Desert Island, where family members worked as domestic staff or gardeners on seasonal estates.
That experience sparked his interest in gardening, inspiring him to earn a landscape architecture degree from the Rhode Island School of Design. Most recently, he worked as the estate gardener at Kenarden Estate in Bar Harbor.
"Karl's design sense is unparalleled," Treworgy said.  "I used to live in both Boston and New York and I can't think of any place where you could get the cake and ice cream designs that he's turning out, and he's just gotten started.  It is really wonderful to bring something so different to Maine."
As a jump-start to fulfilling their dream, Holmes and Treworgy last winter took the Pennsylvania State University's Penn State Ice Cream Short Course — a weeklong immersion — in which they learned about everything from cow to cone.
The class, which is held by the Penn State's Department of Food Science, has been offered since 1892. The university describes the course as the oldest, best-known, and largest educational program dealing with the science and technology of ice cream. It also is believed to be the first continuing education course in the United States.
Back to the shop, Pugnuts already is becoming a community hub less than two months after its opening.
"Seeing locals meet here," Holmes said, "that's been a really fun element. The summer crowd is really supportive too."
On any given afternoon, one might spy area children, cones in hand, monitoring Holmes through the building's basement windows as he makes ice cream. They wave and run away.
When Holmes makes a batch of gelato, he'll use a spatula to sculpt the creamy treat before garnishing with edible flowers. Speaking of flowers, the pair purchased the building and its adjacent tiny accessory building from Sweet Pea Gardens founder Sue Keating.
Despite Surry's reputation as a quiet village, the shop is often still serving ice-cream at 9 p.m. — closing time. The shop is open noon to 9 p.m. Tuesday through Sunday.