Maine historically is known for home baking. So when a new bakery opens, it's the talk of many Maine towns (and cities). Especially if they make their own donuts. A mad dash ensues to sample and assess them. At our sister newspapers, The Ellsworth American and the Mount Desert Islander, many a.m. newsroom meetings have been sweetened by donuts over the years. Here's our subjective take on some of the best. Did we miss someone? Let us know at [email protected].  
A Slice of Eden, 59 Cottage St., Bar Harbor. 801-9232, [email protected], asliceofedenme.com, Facebook. Since 2016, Jason Goller's bakery has served up chocolate donuts among its many delectable baked goods. You'll find friendly staff, coffee and espresso, and other drinks. Saturday is Fryday. Flavors range from glazed and cinnamon sugar and include seasonal specials. Goller also has a pastry pedigree: a degree from the prestigious Culinary Institute of America in Hyde Park, N.Y. Hours are: 6 a.m.-3 p.m. Wednesday-Saturday and 7 a.m.-2 p.m. Sundays. 
Eggemoggin Country Store, 119 Caterpillar Hill Road, Sedgwick. 359-2125. Facebook. For over 30 years, Danny Hinckley has fried buttermilk and other flavors of donuts at the Eggemoggin Country Store in the Sedgwick village of Sargentville. Starting at 4 a.m., Monday through Thursday, Hinckley makes four to five dozen per day. "Repetition is the mother of skills," Hinckley quips.
Imago Dei Bakery, 184 State St., Ellsworth. 669-5472, [email protected], imagodeicafe.org and Facebook. Earlier this year, Oliver and Alexis Prior opened Imago Dei Bakery in Ellsworth, featuring fresh sweet potato donuts in a wild riot of flavors, with a few months of home practice under their aprons. The Priors' preorder-only bakery features diverse flavors ranging from Orange Creamsicle and Cherry Chip to Coconut Crème and Caramel Macchiato. Daily hours are: 8 a.m. to 1 p.m. and 7 to 9 a.m. Sundays.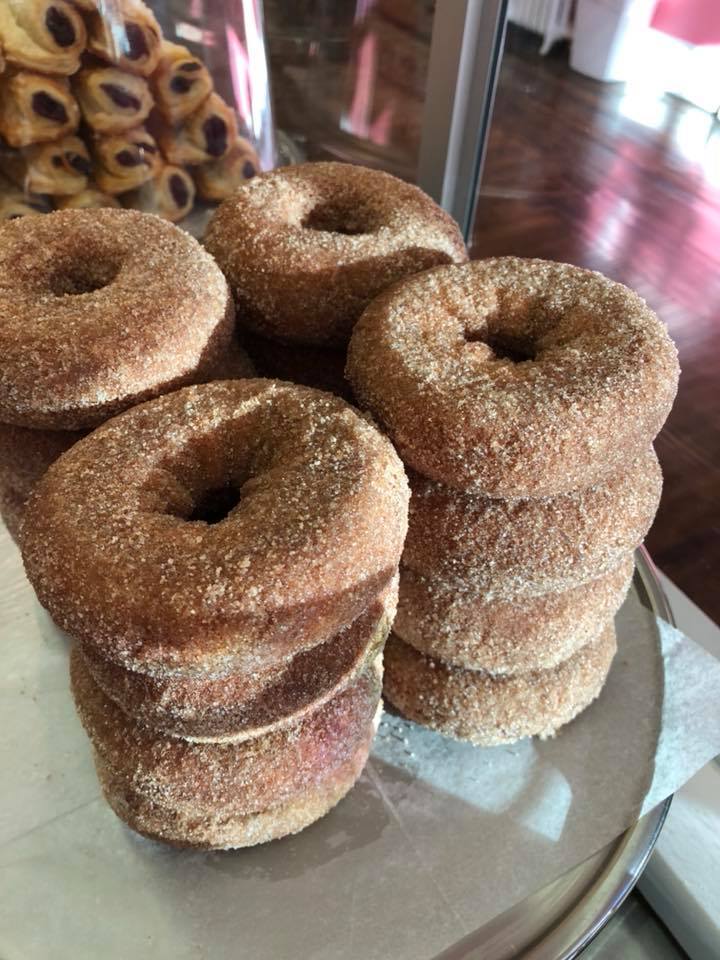 Sugar Bakery, 9 Oak Point Road, Trenton. 667-7667 and Facebook page. It didn't take much for Robin Wright's cake donuts to take off when she tested the off-Mount Desert Island market in 2017. Coffee's good too. Hours are daily 7 a.m.-2 p.m. Wednesday-Sunday. Current flavors are blueberry-sugared and plain cinnamon-sugared. Chocolate will be added soon. Wright also runs The Pink Pastry Shop (14 Cottage St., Bar Harbor) featuring donuts too. 
Sweet Cheeks Bakery, 70 Route 1, Verona Island. 702-9363, [email protected], sweetcheeksbakes.com. Baker Jonathan Beal of the Downeast region's Beals Island, has put his great-aunt Etta's pie-crust recipe and other relatives tried-and-true recipes, as his own culinary education at Rhode Island's Johnson & Wales University, to work. He is just as proficient at making donuts as he is at eclairs. Hours are: 7 a.m. to 3 p.m. Thursday-Saturday and 8 a.m. to 3 p.m. Sundays. 702-9363, sweetcheeksbakes.com and Facebook. 
The Colonel's Restaurant and Bakery, 143 Main St., Northeast Harbor. 276-5147, colonelsrestaurant.com, Facebook. Closing in on a half century, The Colonel's is an institution on Mount Desert Island. Run by the same family for 45 years, the bakery is known especially for its donuts. Some kids have even rowed across the harbor to get them. Hours are: 9 a.m.-9 p.m. Monday-Saturday and 9 a.m.-8 p.m. Sundays.  
Morton's Moo Homemade Ice Cream, 9 Church St., Ellsworth. 266-9671,

[email protected]

, mortonsmoo.co, Facebook. Very modestly priced cinnamon sugar and double chocolate doughnuts are being made at Ellsworth's ice cream emporium. They also go well with the excellent coffee and expresso brewed there. They even have a Sunday donut special!