Downtown Belfast is officially hip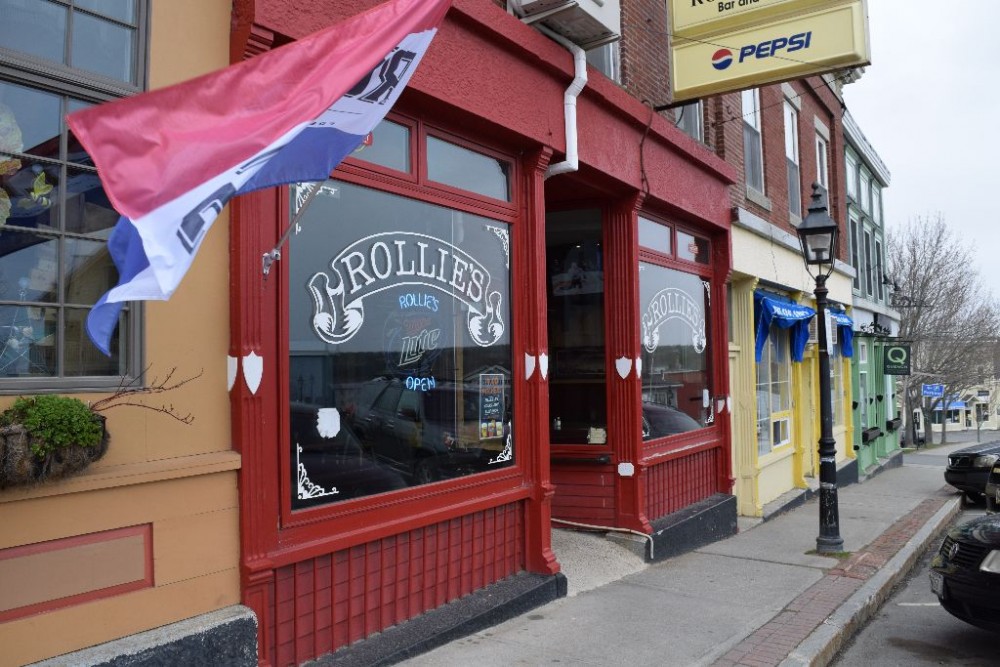 From its industrial roots as a 19th century shipbuilding town and the home to chicken, sardine and potato-processing plants in the 1950s, Belfast over the past decade is flourishing in a new phase: that of a hip, thriving and creative coastal community.
While its hardware store, shoe shop and food co-op are necessities for the town's 7,000 residents, the sweeping waterfront, unique shops, casual gourmet restaurants and summer festivals make it a must-visit hamlet for visitors to the Midcoast.
From the top of Belfast's downtown to the bottom of the hill at the working waterfront, so many appealing boutiques and bistros line the quaint Main Street that it could take days to peruse them all.
The town wasn't always so vibrant.
Meg Reilly, a Bar Harbor native who runs the Sail Locker on lower Main Street, said Belfast was not on her radar growing up just 90 minutes away.
"No one ever just took a trip to Belfast," said Reilly, who became a resident about five years ago. "There wasn't really a reason to."
Now, Mainers and out-of-staters alike flock to the Midcoast town for amenities you won't find nearby.
According to Dee Bielenberg, who owns the women's underpinnings shop City Drawers and neighboring menswear store Man on Main, some customers drive an hour and a half just for a shopping trip.
"One of the things that has kept downtown alive is that many of these stores are necessities [for residents]," she said. "We are 45 minutes in either direction from a big-box store."
Belfast's isolation from chain stores and restaurants allows the town to maintain its one-of-a-kind charm.
Breanna Pinkham Bebb, a Winter Harbor native and executive director of Our Town Belfast, says over the past several years the town has become a beacon for young business owners.
"Whatever you have to bring to Belfast, people are excited to make the most of that," Bebb said.
Newer shops such as Sail Locker, which opened last June, and Quench, a jewelry and gift shop, complement older stores downtown.
Quench owner and jeweler Jennifer Lisa likes to stay off the beaten path.
"You aren't going to find blueberries, lobsters and lighthouses in here," she said. "I like more edgy stuff, exclusive stuff you can't find somewhere else."
While Quench doesn't feature the state's signature imagery, Lisa does keep it local with the majority of her merchandise coming from Maine artisans.
Lisa's own reclaimed metal jewelry accompanies quirky gifts from Ellsworth's Julia Ventresco and textiles by Christine Leith of Sedgwick.
Other shops, such as Coyote Moon, have anchored the town for decades. The women's apparel shop specializes in clothing, accessories and gifts, many from local Maine artisans.
Buyer and jewelry maker Katharine Cox says the store's goal is to "uplift the spirit and spread mindfulness."
Buddha statuettes, wind chimes, fragrant lotions and cheerful candle holders can help guide you into your happy place.
Across the street, The Green Store specializes in reclaimed clothing, gifts and home goods. Everything is either recycled, all-natural or sustainable.
The 22-year-old shop sells organic body products from brands such as Jason, alongside BPA-free kids toys and vivid indoor/outdoor rugs made of recycled plastic.
For some history with a side of shopping, visit Colburn Shoe Store, the oldest shoe store in the country at 184 years old.
Colburn's stocks casual and athletic footwear from brands such as Birkenstock, New Balance, Saucony, Ugg and Teva for men, women and kids.
Belfast's arts community hosts its flagship event, Arts in the Park, each summer. The waterfront arts and crafts festival has drawn visitors to downtown Belfast for 21 years. This year's festival is on July 9 and 10.
Some local artists find ways to feature chickens into their work as a nod to the town's poultry processing history.
All that shopping can really work up the appetite.
"Our great restaurants have been a real draw to town," Bebb said.
Three Tides, the sister restaurant to Belfast's Marshall Brewing Co., has a beer garden that in the summer opens up to the waterfront.
The bar serves up small plates such as oysters, hummus, quesadillas and mussels with one of the best views on the coast and a live summer music series.
Along with the oldest shoe store in the United States, Belfast Co-op is the first one in Maine.
Pick up premade sandwiches, salads and sides, or pick from home-grown produce and locally sourced meats for a picnic on the waterfront.
Carnivores won't miss the meat at Chase's Daily, which features vegetarian fare straight from the garden behind the restaurant.
Chase's also displays a rotating selection of artists on a large wall beyond the main dining room.
"Anything you do in Belfast is going to have the arts woven into it because we have a really creative community," Bebb said.
For a tour of all that Belfast has to offer, hit up Our Town's seventh annual Street Party on Monday, Aug. 1.
The all-day fête celebrates downtown Belfast with entertainment, kids' activities, a rock climbing wall and food trucks.
"It's great for families," Bebb said.