Downtown carriage rides conjure Gilded Era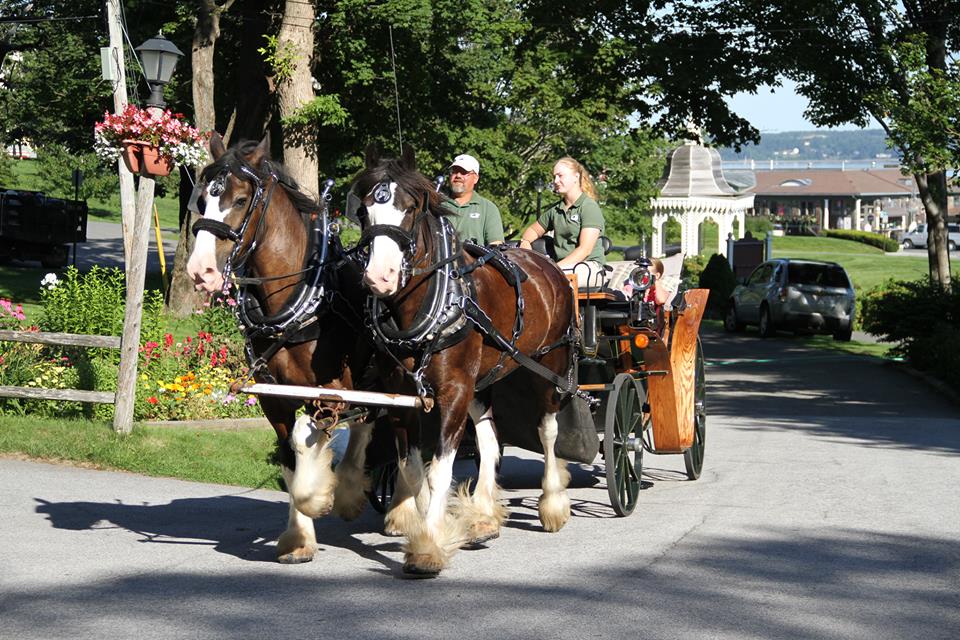 Vacation is a great time to slow down, try something new, learn a thing or two, or simply have a good time. Wild Iris Farm enables visitors to do both things. Visitors can experience a horse-drawn carriage ride and learn to drive themselves.
Wild Iris is a 35-acre, family-owned horse farm located on the Crooked Road in Bar Harbor. In addition to downtown carriage rides, farm owner Sandi Read and manager Marc Jaffrey offer horse boarding and driving clinics. They also bring their shire workhorses to weddings and special events all around the Mount Desert Island area.
But visitors are most likely to see Read and Jaffrey with a team of handsome horses as they steer an old-fashioned carriage through the downtown streets.
"People love going on the carriage to get a great overview of downtown Bar Harbor," Jaffrey told Out & About. "We point out a lot of shops and features of the town, and they pretty much will plan their day on the basis of our carriage ride."
The rides really are great for just about everyone, he said. Families, couples on a romantic evening stroll and groups of people traveling together and exploring Bar Harbor for the first time all gain a lot of enjoyment from the carriage rides.
Each 20-minute ride takes passengers on a journey back in time, to the gilded age of Bar Harbor. Jaffrey typically holds the reins, while his coachman regales riders with stories of Bar Harbor's historic buildings, famous wealthy summer residents, and the time in history when the town rivaled Newport as the premier summer colony for the upper crust.
"What really makes our rides spectacular is that Bar Harbor was built on tourism, and that tourism was built on horse and carriage for years," Jaffrey said. "For me, what better way is there to see town than the way the Rockefellers saw the town in a different era."
For its in-town team, Wild Iris utilizes four of the crew of shire workhorses that it raises on its farm. Dickens, Truman, Zeke and Griffin, between the ages of 8 and 13, are friendly and accommodating despite their intimidating size.
"They are gentle giants," Jaffrey said. "They love to work, they are very friendly, they're very caring, and they are just very good-natured."
Before 1913, cars were not allowed on Mount Desert Island. For years before that, Bar Harbor was an incredibly popular destination, and once you got here, the only way around was by horse. Jaffrey said that traveling by horse-drawn carriage today, with its unique sounds and smells, evokes that gilded-age era in a way that few other things can. He really enjoys the feeling of working with the horses, and believes that his riders enjoy the proximity as well.
"It slows you down on vacation, and you really feel like you're back in the heyday, because this is how all the tourists would have traveled through the town," Jaffrey said. "In this way, you can enjoy what all the other tourists, hundreds of years ago, loved about our town."
Bar Harbor by CarriageWhat: Horse-drawn carriage ridesWhere: 55 West St., Bar Harbor
When: Every 20 minutes
How much: $18 per adult, $15 per child
Contact: 288-5234, www.wildirishorsefarm.com