Exploring the Big Chicken Barn like "I Spy"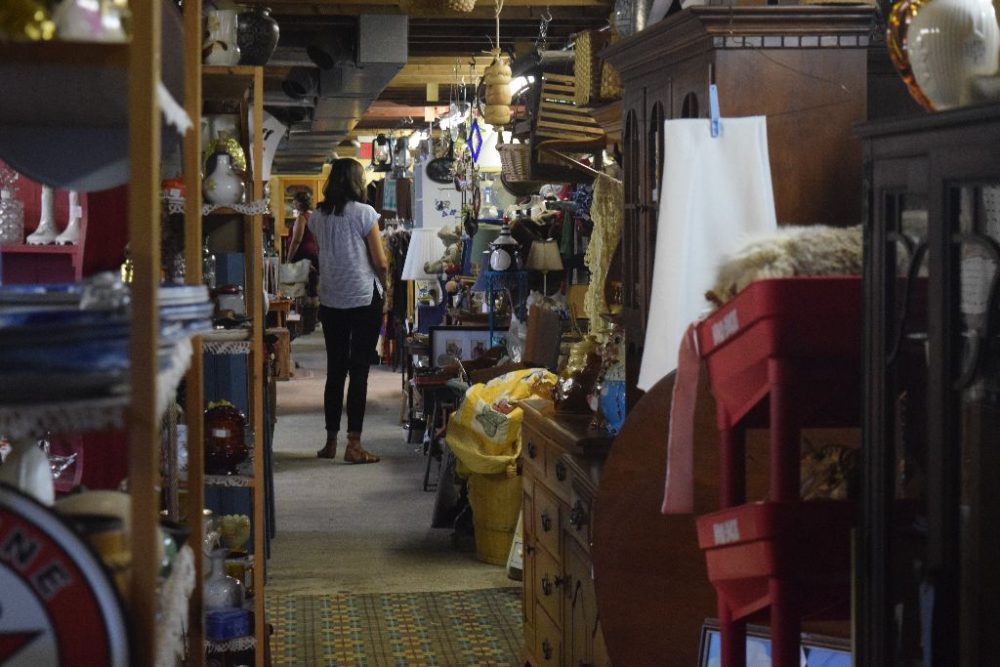 The thousands of rarities, oddities, antiquities and collectibles filling every nook and cranny of Ellsworth's Big Chicken Barn Books & Antiques could easily keep even the most diligent of "I Spy" players occupied for hours.
The more-than-21,600-square-foot former chicken barn is like a museum chronicling Mainers' lives over time from a wall festooned with women's retro handbags, purses and clutches to All manner of knives and fishing reels. The saying something for everybody comes to mind.
In the cavernous building the first floor is a maze of stalls rented out to individual antiques dealers. One stall might be devoted to vintage snowshoes and cross-country skis while cuckoo clocks and other timepieces occupy another.
Big Chicken Barn owners Annegret and Michael Cukierski have owned the vast structure and operated it as an antiques mall since 1986.
The first level is leased out to dealers from all over Maine to bring in antiques to sell at the store. The second level houses more than 150,000 books as Maine's largest book store.
"It's a combination of books and antiques and collectibles," Annegret Cukierski said. "Lots of times, couples will come in, and one will go up to the books and one will stay down here."
Walking along the narrow hall of the first floor, visitors most likely will find something they desire. Ruby glass oil lamps line a shelf next to rusted copper lanterns. A Coca-Cola bike leans against a red Toy 'N Joy candy machine. Hundreds of records, from Elton John's "Tumbleweed Connection" album to The Beatles' "Revolver," fill bins and hang on the walls. Delicate floral tea sets fill wooden armoires.
Up a flight of creaky wooden steps is a book-lover's paradise. Newer paperbacks line the back shelves. Faded National Geographic magazines dating back to the early 1900s are stacked together. Historic events are colorfully displayed on the covers of original Time magazines.
The Cukierskis find their varied collection of reading material at auctions around the country. Of the most popular items are their Life magazines, some of which date back to the 1930s.
The Big Chicken Barn's history is almost as intriguing as the collectibles it contains. City records show that it was standing in 1955, but it may have been built before then. The capacious barn could hold 33,000 chickens.
Throughout the 1960s and '70s, ownership went back and forth between private farms and the Farmers Home Administration. In 1984, Bedford Riggs purchased the property and converted the structure into a used book store.
The Cukierskis brought the building in 1986 when they moved to Castine from New York. At the time, Michael was working at Maine Maritime Academy and Annegret was looking for a part-time job. An antiques shop seemed like the perfect venture.
Nowadays, the Cukierskis pour their time and energy into finding unique pieces of interest to their eclectic customers who hail from all over Maine, the nation and the world.
"There was once a wicker body bag," Annegret recalled with a laugh when asked about the weirdest object she's encountered. "It was kind of cool. Somebody bought it to use as a coffee table."
The Big Chicken Barn is located at 1768 Bucksport Road in Ellsworth. For more info, call 667-7308 and visit www.bigchickenbarn.com.