Farmers markets offer fine produce, gifts conversation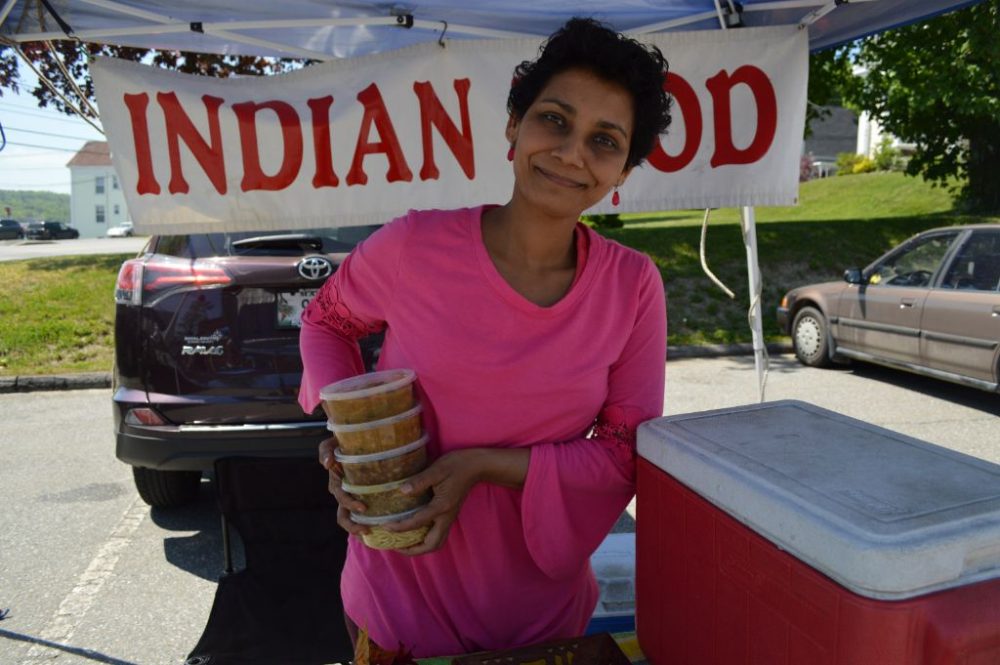 On Saturday mornings, a real estate agency's parking lot in Ellsworth becomes a community gathering where a freshly baked loaf of sourdough bread and other locally produced food and handcrafts are exchanged with smiles and friendly conversation. It's hard not to grin taking in the atmosphere and feast for the eyes. Lush, leafy bunches of carrots, radishes, lettuce, spinach and kale pop out in front of the farmers whose own hands grew and picked the produce.
It's the farmers market. In Hancock County, encompassing the city of Ellsworth and 36 towns, there are 14 farmers markets to choose from, each offering a different taste of locally raised food and culture. On any summer day, a market can be found. Although there are repeat vendors, no two area like.
The farmers market, though, isn't just about getting your weekly supply of kale, eggplant, cucumbers and other veggies in season. Going can be as simple as enjoying a cup of kombucha or grabbing a homemade croissant and espresso.
Make a morning out of it. Mingle. Feel the sun on your shoulders and breathe in the fresh air as you wander. Talk to the farmers who grew the food. Ask them when were these tomatoes picked? How is this year's crop looking?
Shopping at the market makes eating what's in season easy. Take a bite of a field-ripened strawberry in July. The juicy red flesh looks and tastes much different than the barely ripened berries sold at the supermarket in January.
On a hot Friday afternoon, Otter Creek pig farmer Christopher Brown and his daughter Bella are selling pork, ham and bacon among other pig products from their family farm at the Acadia Farmers Market in Town Hill.
Fourteen-year-old Bella, whose father says she is a natural at serving customers, handles the transactions and fields questions from shoppers.
"It's special I get to be with her," Brown said. "She's just going into high school, and she's already been working at markets for a few years, so it's nice to see her confidence and her skills."
The farmers market is a place for making new discoveries. Take, for example, Sheila Eddison. Through her enterprise A Stone's Throw to Health, the Seal Cove woman not only sells a line of probiotic foods such as Royal Rocket and Gingerly Carrot 'Kraut, but also educates customers about all the benefits of eating fermented vegetables. Have a taste for yourself at her stand where she has several out for sampling.
Or another discovery might be Biggi's Organic Breads at the Ellsworth market. The Bangor bakery's pillow-soft coconut boule is the bread you didn't know you needed for breakfast.
Homemade baked goods is a common thread at farmers markets. Taking home a fragrant loaf, which came out of the wood-fired oven that morning, is a universal treat.
At the Blue Hill Farmers Market, even on a gloomy, rainy Saturday morning, the line for the French bâtard, croissants, fruit danishes and other bread and pastries from Tinder Hearth Bakery stretches across the Blue Hill Fairgrounds. Within an hour of the market's opening, the Brooksville bakery's offerings have dwindled.
Maine's farmers markets also are a great source for unique, handmade goods to take home as gifts or souvenirs. Perhaps a quilted pillow made by Belmont artist Nora Flanagan. Her handmade pieces depict the ocean, lighthouses, sailboats, horses and barns — all reminiscent of Maine summer.
Also popular are handmade wooden spoons from Blue Hill Spoonworks. Market-goer Caroline Councell is rifling through dozens of spoons piled high on the three tables making up crafter Bob Gillmor's stand. The utensils range from big serving spoons and smaller tableware to left- and right-handed pieces. What brought her to the farmers market? "For these spoons" Councell simply replied.
Maitland Ianiri of Blue Hill is buying salad greens from King Hill Farm. "I come to the farmers market to support and eat local food," he said. "The people are wonderful, and I feel good about the food I buy here."
Picking up the season's flowers, artfully arranged in a Mason jar or by the stem, is another incentive for dropping by a farmers market.
Stepping into Bar Harbor flower farmer Rachel Moses' tent is like entering a nursery. Poppies, petunias and snapdragons are among the vibrant flowers for sale. Their sweet aroma fills the air.
Moses, who runs Sunflower Gardens and Greenhouses and started Town Hill's Acadia Farmers Market, says frequenting the farmers market is one of the best ways to support local food producers.
"They can directly purchase things. They can meet the people who are producing them and get to know them. You should know where your food is coming from in order to localize our food system."
A comprehensive list of all the Maine farmers markets' locations and times can be found at http://www.mainefarmersmarkets.org/shoppers/markets-by-day/.