Former movie designer sets up shop in boatyard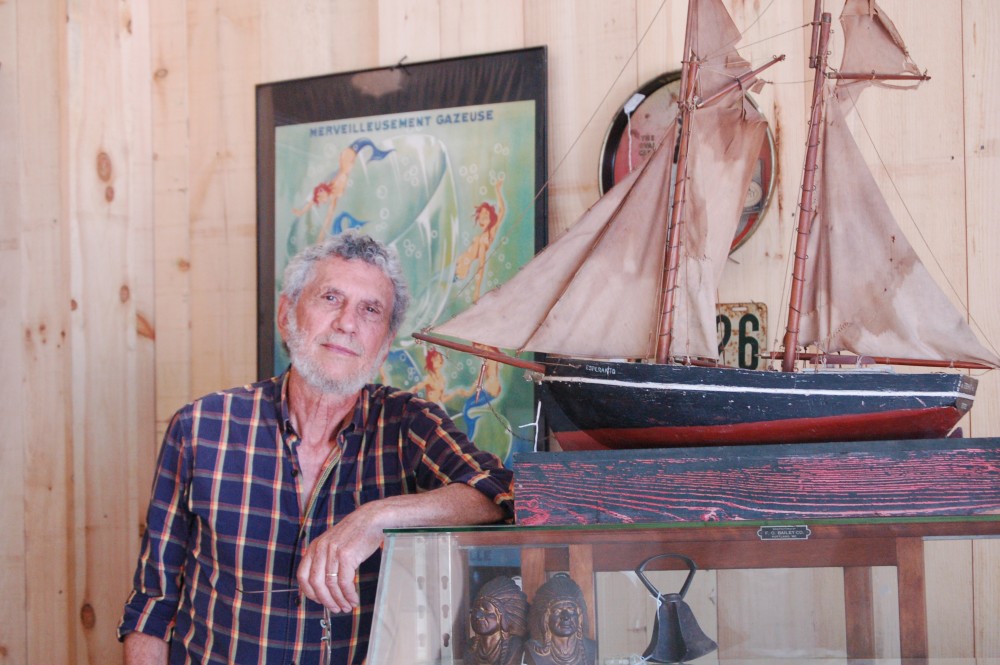 How the newly opened Boat Yard Antiques got started almost sounds like a joke.
A man goes to a boatyard for a part and leaves after agreeing to rent a boathouse for an antique shop.
In fairness, Ken Weinberg has had a couple of booths at the Old Creamery Antiques in Ellsworth.
"It basically started as a hobby to keep me off the street," said the retired set dresser, whose movies include "Jumanji" and "The Crucible."
Earlier this summer, Weinberg needed an o-ring for his Trident, so he went to Webber's Cove Boatyard. The owner, Matt Cousins, then showed Weinberg an empty boathouse next to the Boat Yard Grill and asked him about renting it.
"I said, 'Sure,' and we shook hands,'" Weinberg said.
An East Blue Hill resident, Weinberg, whose career as a film dresser and designer spanned more than 40 years, saw potential in the airy space.
Having Annaliese Rigall's eatery next door was another bonus.
"One thing will feed another," he said.
Weinberg found merchandise, built walls and readied the former boathouse to open in five weeks.
The boathouse, with its lofty ceilings and doors that completely open up the space, is perfect for an antique store. Everything fits and there are no stairs to maneuver.
A generously sized armoire occupies part of a wall.
"I would never dream of buying an armoire like that because you could never put it anywhere," Weinberg said.
"What I love best about this business is the hunting," he said. "The setting up is great. The selling — I'm glad to make money to buy more stuff. To me anyway, the joy of what I'm doing is the hunting. You feel like some caveman bringing back a bison to your cave."
Weinberg chose carefully for Boat Yard Antiques.
"My criteria for this was I wouldn't buy anything unless I would live with it in my own house," Weinberg said. "What I was trying to do was pretty much make a set."
He envisions the shop as a backdrop for a "foreign intrigue film." Spies are meeting and dropping notes under furniture. Perhaps the film is "Casablanca."
Making sets has occupied much of the 76-year-old's life, so he knows what furniture and object de art to snap up at auctions and tag sales.
Weinberg retired about 10 years ago. As set decorator, set dresser, property master, lead set decorator, production designer and art director, he was responsible for the look of several major motion pictures, commercials and documentaries.
"I was predominantly property master. I designed sets. I decorated sets," Weinberg said.
Besides "Jumanji" and "The Crucible," Weinberg's films include "Black Rain," "Empire Falls," "In the Bedroom," "Head Above Water," "Mr. Saturday Night," "Great Expectations," "Cider House Rules," "Bonfire of the Vanities," "Ghost," "Prince of Tides" and "Me and Myself & Irene."
He worked with some greats, including Barbara Streisand. Morgan Freeman was his favorite actor to work with.
"He was so approachable," Weinberg said. "He would eat with the crew."
Weinberg started in the industry after finishing a tour in the Army. He and his then wife had a new baby (who is now 52) and they needed money.
Weinberg's father, who worked as a grip in the film industry, had urged him to try it out. A grip builds and maintains equipment that supports cameras and moves and sets up equipment. The most famous film the elder Weinberg worked on was "On the Waterfront" with Marlon Brando.
One of Weinberg's first jobs was on a commercial for Ivory Soap, which had a tagline, "It Floats."
The director wanted to shoot a bar of Ivory floating in a tub, but the soap kept sinking.
So, Weinberg, who was filling in for a sick prop guy, found a remedy.
"I cut the bottom out and put a piece of Styrofoam in it and it floated," he said.
"I said to my wife, 'I think I can make it in this business. Half of it is bull…t.'"
Weinberg's visually oriented brain is partially responsible for his success.
When deciding a look for the set of a commercial, Weinberg needed just a sentence or two from the producers. For example, 'Italian-American couple sitting in their kitchen. The annual household income is $45,000 to $50,000 a year.'
"Basically that's all I needed," Weinberg said. "I think in pictures. When I solve a problem, I look at a movie in my brain. Basically I see the picture and now I'm just filling in the picture. I didn't have the luxury of time to do research."
There was no Google to help track down objects. There were a couple of prop shops Weinberg would visit.
Weinberg's youngest son, Dan, is going to be the third generation in the motion picture industry.
Dan, 22, is taking a break from Temple University to work on the shooting crew for the television show "Law & Order."
"I told him, 'You'll know in nine months whether you want to do this or not,'" Weinberg said.
Weinberg reminisced about all the changes in the industry since he began.
"When I first started it was a hard-drinking sort of blue collar industry," he said. "A lot of first-generation Irish and Italians would kill you if you took their job."
"Because they were making a decent living, their kids were educated," he said. "The next generation became more educated. The third generation, they're eating health food. They're not going to a bar for lunch."
Boat Yard Antiques
Where: 13 East Blue Hill Road, next to the Boat Yard Grill at Webber's Cove Boat Yard.
Hours: noon to 7 p.m., Tuesday to Saturday