Hiking the Maine Ice Age Trail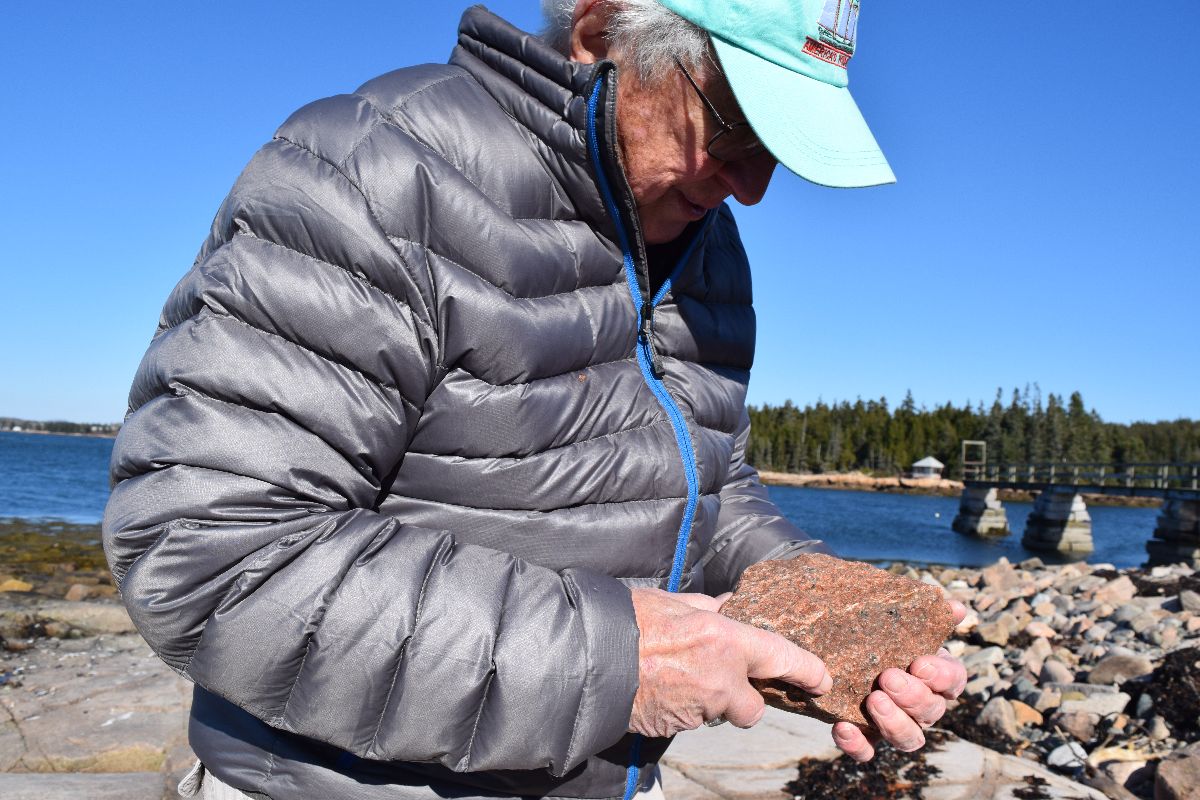 WINTER HARBOR — Harold "Hal" Borns, a University of Maine geologist and founder of the school's Climate Change Institute, might as well add "time traveler" to his business card.
In an hour-long conversation, Borns will transport you to a period when elephantine beasts wandered the Maine countryside and sea water lapped at the shores of Millinocket.
The wooly mammoth has gone extinct, and the ocean has retreated considerably in the last 15,000 years, but evidence of those changes is etched all over the state.
Borns speaks of those transformations with enthusiasm and familiarity, the way a rock music historian might explain Bob Dylan's switch to electric.
He's also been a prolific translator of geological history for a wider audience. To understand the Ice Age, which saw vast sheets of glacial ice cover North American, one needn't look further than the Maine Ice Age Trail, and its accompanying map, which Borns produced with the Climate Change Institute several years ago.
Available both in print and as an iPhone app, that map shows how the Ice Age sculpted the Downeast region into today's playground of mountains, cliffs, barrens, coastlines and lakes. It details some 50 spots between Ellsworth and Eastport where amateur geologists can find those features.
On a recent fall morning, Borns, an Orono resident, drove to Frazer Point in the Schoodic District of Acadia National Park. He wasted no time in opening a copy of his map.
Like all stops on the print version of the Ice Age Trail map, Schoodic is marked with a dark blue, mammoth-shaped icon and a yellow number corresponding to a reference guide on the opposite side. In this case, the guide indicates that grooves on the granite surrounding Schoodic indicate the southeasterly slide of a glacier millennia ago.
The latest glacier to cover Maine was the 1.5-mile-deep Laurentide Ice Sheet 25,000 years ago, according to the guide, but rising temperatures prompted it to start melting and "retreating" across Maine 4,000 years later.
The weight of all that ice depressed the land. After it melted, sea water was allowed to flood many lowland areas, forming some of the most distinct features on the Ice Age Trail.
Besides Schoodic, the trail also stops at Cadillac Mountain — "possibly the first part of eastern Maine to emerge from the ice about 16,000 years ago" — and other places on MDI. Farther inland, stops include the Agassiz Historical Outcrop at Ellsworth Falls and a glacial landscape in Cherryfield. Farther east, stops include a "drowned forest" in Lubec.
But while the Ice Age Trail map provides a bird's eye view of the state's glacial legacy, simply inspecting some of the rocks around Frazer Point — or anywhere else along the trail — also reveals some of the area's natural history.
It helps, of course, when a pro like Borns is scoping the area for you.
Through his 50 years of work as a professor at the University of Maine, Borns helped start the polar research program that would become the Climate Change Institute. He's traveled extensively to places like Antarctica, Norway and Ireland. He's served as an on-call geologist for one sitting U.S. president, and an Antarctic glacier bears his name.
Now 88 years old and "retired," Borns remains a professor emeritus at the university and an active researcher. He's recovering from a hip operation and walks with a cane, yet still says, "I feel like I'm 40."
Out at Frazer Point, Borns first explained that a beach is a place where sediment has been deposited. Often that's at a shoreline, he said, but the change of sea levels over time has also left beaches — technically speaking — farther inland.
On MDI, Sand Beach is an example of the classic type of beach where sea shell fragments get pounded by surf and deposited over thousands of years to form that classic yellow sand.
But if you've wondered why the TV series "Baywatch" never came to Maine, it's because such soft shores are rare here and far more common in southern states such as Florida. For the Downeast beachgoer, pebbles and cold temps usually aren't conducive to skimpy swimwear and slow-motion sprints to the water.
Gathering rocks is a far less masochistic option — and it can be quite a rewarding one, too.
That's because the local beaches were often formed in one of two ways, Borns explained: either glaciers deposited gravel, rocks and boulders at the shore, or the surf beat down and eroded the bedrock, breaking off chunks in the process.
For a macro view of the geological changes that have shaped the region, find the Maine Ice Age Trail Map and Guide: Down East at http://iceagetrail.umaine.edu/themap.htm or search for it on the Apple app store.