Ironbound Restaurant opens in former Le Domaine Inn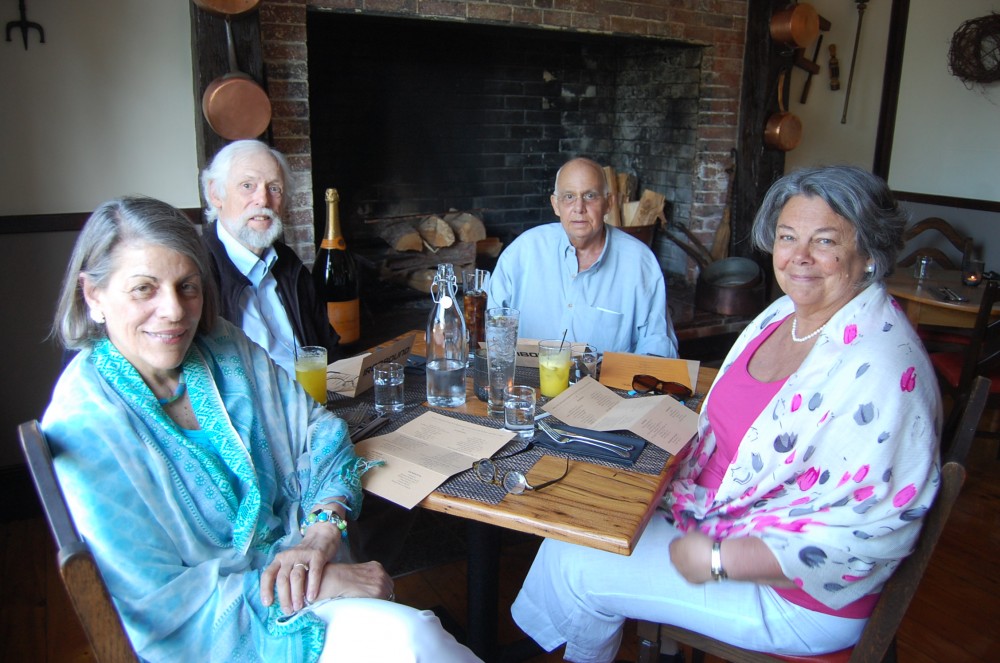 Stepping into Ironbound, a new restaurant and inn on Route 1 in Hancock, is both a startling and familiar experience.
Still visible are the bones of its former life as Le Domaine, a French country restaurant that operated for six decades.
Copper pans still surround the massive hearth and the original Le Domaine flatware and dinnerware continue to be used.
But the place has been jazzed up with a much larger bar area, a new color scheme — earth tones instead of bright yellow — and a new menu.
Chef Rob Johnson has collaborated with managing partner Leslie Harlow, co-owner and founder of The Maine Grind, on an extensive list of small plates ranging from several seafood offerings and a charcuterie plate to jerk pork ribs and roasted eggplant dip.
"We want to focus, when possible, on local and regional foods and fresh caught fish," Harlow said.
Raised beds in the extensive grounds behind the building are filled with fresh grown greens and herbs.
For heartier yet more casual fare there are sandwiches —among them grilled cheese, lobster and crab rolls; burgers, salads and comfort food and Mac & Cheese with and without lobster.
Entrees include, among others, fresh salmon, a variety of Panko-encrusted chicken dishes, rib eye, duck, shrimp and leg of lamb.
Johnson and his sous chef, Eric Osier, prepare all of the desserts: cannoli, blueberry pudding cake, flourless chocolate cake, crème brulee, coconut cake and Morton's Moo ice cream.
The dining room is open seven days a week through the summer, 5 p.m. until closing.
Chef Rob Johnson — a veteran restaurateur from Connecticut and Sous Chef Eric Osier of Sullivan have the benefit of two recent graduates of Johnson & Wales University in Providence, R.I. assisting them.
A 2005 Sumner Memorial High School graduate, Osier has learned on the job, starting with Pat's Pizza and then moving to Cleonice in Ellsworth, where he prepared tapas, and then the Salt Box in Hancock.
"I like creativity and I'm good under pressure," said Osier. "And I always enjoy the camaraderie in the kitchen."
Johnson moved to Maine from Connecticut, where he founded and owned two restaurants —Cibo, in Branford, and, after he sold that, Aqua in Clinton.
Born in industrial Waterbury, Conn., Johnson had intended to be a machinist but the apprentice program was cancelled during the financial crunch in the mid-1970s.
He had a friend who was planning to attend culinary school and — having been raised by two parents who loved to cook — Johnson went along and enrolled at the Culinary Institute of America in New York.
"It was a great time to be in New York City," said Johnson, who fondly recalls the commencement speaker, Julia Child, before she had become a household name.
His first position after graduating was at the former Sal Anthony's, a New York Times three-star Italian restaurant at 18th and Irving Place.
A waiter at the restaurant planning to open his own place invited Johnson to come along.
From there, he went to a series of very tony kitchens — The Stanwich Club in Greenwich, the Wee Burn Country Club in Darien and the luxury Homestead Inn in Greenwich.
A friend at the Homestead Inn asked him to be chef at a new restaurant in Branford, Serino's.
Johnson wound up his culinary career in Connecticut with the two restaurants he established followed by a two-year stint as executive chef at Park Central Tavern in Hamden, Conn.
He now is semi-retired, and spends half the year in Delray Beach, Fla.
"I like Maine," he said. "Leslie and I hit it off right away and here we are."