Main Street gallery envisioned as creative hub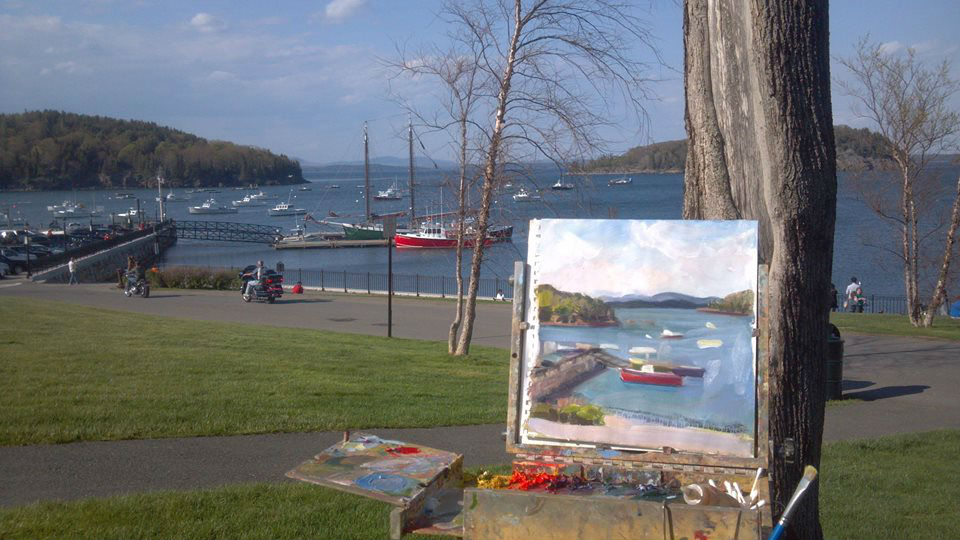 ArtWaves, the name that artist Liz Cutler gave her new gallery, is apt.
The arts activist and entrepreneur is determined to make some serious waves in the local art scene by using the Main Street location, across the street from the Women's Health Center, as a resource for both artists and art admirers to create, discuss, teach, critique, display, sell and buy works of arts.
"This is not my gallery," Cutler insists. "It is the community's space to use for a variety of arts-related purposes."
Recently, the gallery featured works, largely by area artists, measuring 10-by-10 inches in size. All the pieces were priced at $110.
The little paintings filled the wall space of the three gallery rooms with vibrant images of flowers, land and seascapes in all seasons, figures, Maine life, animals — including a handsome blue rhino — furniture and faces painted by some of the areas most familiar artists.
On view were Helen Douglas's bold acrylic landscapes, many of them capturing this past winter so beautifully that one almost misses all that snow; Linda Rowell Kelley's appealing collection of colorful chairs; Roberta Sprague's delicately detailed tissue collages; Susan Aripotch's intricate mandala designs; and the aforementioned rhino, which seems to pay homage to Magritte.
There are some less familiar names, too, such as Dianne Braun, who successfully tackled a variety of subjects from bushy-tailed foxes to ice fishing. Cutler herself manages to create a lovely bouquet of white roses with just a few brush strokes.
Some of 15 artists participating in the "10×10" show belong to the ArtWaves cooperative, but they do not have to. Cutler does not take a commission on sold works.
"ArtWaves is happy to host this show free of charge," Cutler said, "and the hope is when an artist finds success here, they will want to become part of this community."
Membership is $52 a year – $1 a week.
In addition to being able to rent the gallery for group or individual shows, members can access studio space rental, be included in a virtual gallery on the Internet, which is in the process of being set up, and use space for giving classes. It also covers the use of printmaking and stained-glass making equipment, some storage, use of easels and a host of other art-related opportunities, including a planned afternoon teatime when members may gather to share ideas and good food.
"I think it is vitally important for the arts community to interact with one another," Cutler said. "I hope this will be a place where people of all abilities can gather to teach or learn or simply listen to each other."
ArtWaves is located at 329 Main St. Visit ArtWaves' Facebook page, email [email protected], call 478-9336 or go to www.lizcutler.com.