Mother and daughter cook for folks on the go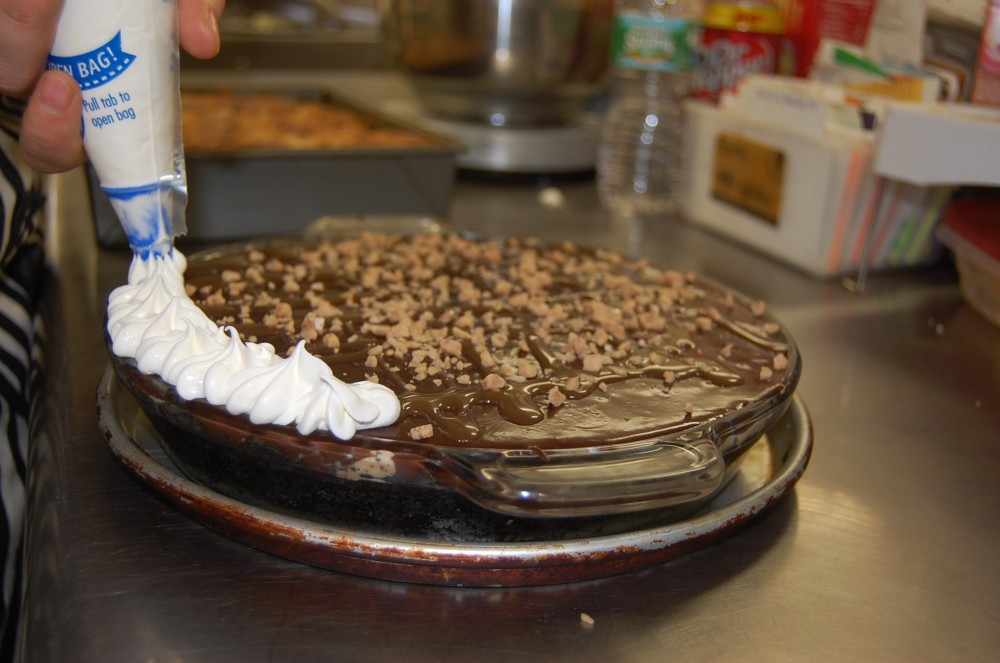 Jennifer Worster's epiphany occurred in May 2012 when she was almost killed in a car accident while living in Florida and working as a retail manager.
It was then she decided she wanted to be closer to her family in Maine and would work out the details of making a living later.
Today she is baking and cooking full time at Hancock Grocery, a popular local convenience store.
"I re-evaluated my life," Worster said of that watershed moment a year and a half ago. "Baking and cooking had always made me happy. It was no longer about making money."
She first baked at Timber's Restaurant in Hancock, which closed in December 2012.
Soon after Tim and Catrina Benson, owners of Hancock Grocery, hired her to bake and prepare hot food at the Route 1 popular stop off.
"They give us free rein," said Worster, who is gradually expanding the range of baked goods and prepared foods.
Worster grew up in Aurora and graduated from Averill High School in Hinckley, Maine.
She attended Elms College in Chicopee, Mass., and was studying to be a social worker when she had to leave due to health reasons.
Later Worster entered the world of retail management and managed a variety of shops in Holyoke, Mass., Syracuse, N.Y., Philadelphia and Florida.
Her new career as a baker and cook allows her to be creative and to work with her mom, Lynn Warford, a longtime employee at Hancock Grocery.
In years past, the convenience store prepared sandwiches, fried food, pizza and baked whoopie pies.
Today Worster and her mother offer the same food along with a greatly expanded list of hot foods and baked goods to go.
Customers can find everything from pumpkin chocolate chip cookies — the mom's specialty —to blueberry muffins, holiday pies and wedding and birthday cakes.
A family in Schenectady, N.Y., ordered seven dozen of the pumpkin cookies to give away as Christmas gifts.
One of Worster's specialties is a double-layer raspberry cream cake with vanilla cream, raspberry jam and butter cream frosting.
"She's the fancy baker," said Warford, who had just pulled a large pan of chunky apple cinnamon cake from the oven. "I'm the Mom baker."
During the holidays, Worster offered 20 different pies, including a "real" mincemeat. She can prepare any pie, cookie and wedding and birthday cakes to order.
In addition to a wide range of sandwiches — hot and cold —and pizza, the two prepare hot meals, such as chicken pot pie, macaroni and cheese, shepherd's pie, baked ziti, chicken broccoli Alfredo with homemade sauce, baked beans and biscuits.
They also have haddock chowder every Friday and other soups such as minestrone and corn chowder. There is a pot of chili on the stove every day.
And there is hot food available even before the crack of dawn.
Hancock Grocery opens at 5:30 a.m. and by 5:45 there are breakfast sandwiches, burritos and pizza awaiting hungry customers.