Islesford Historical Museum celebrates island's fishing history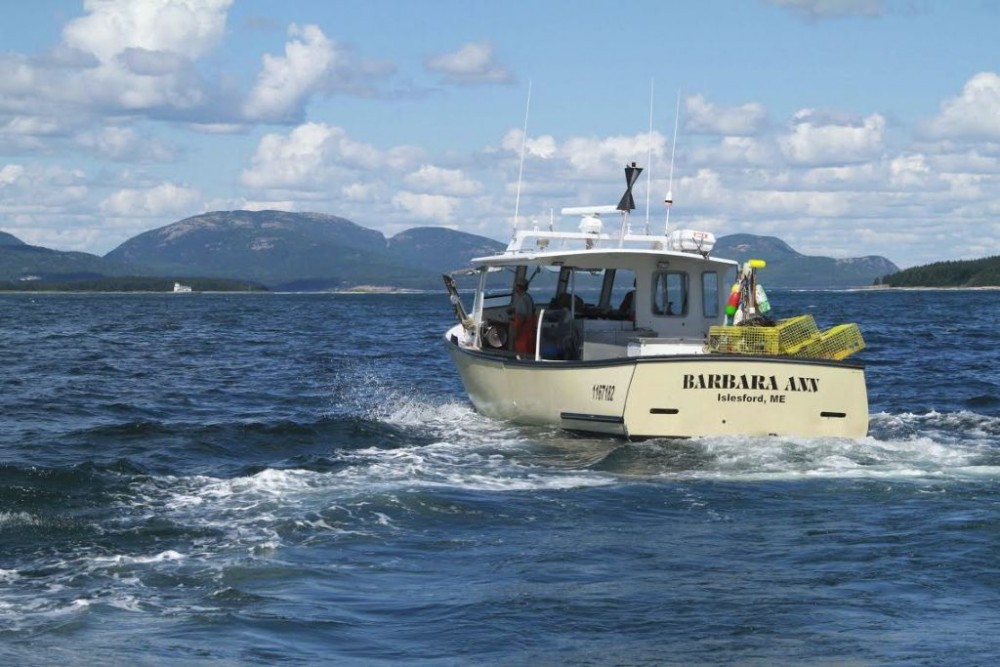 It takes a village to raise a child, a popular saying goes. For the Islesford Historical Museum, it took a village to raise its latest exhibit.
"Boats and Buoys: Lobstering on Little Cranberry Island," which opened June 21, features photos, lobstering gear, model fishing boats, paintings, poetry and recorded interviews from the residents of Little Cranberry Island. The island's village is called Islesford.
A three-mile mail boat ride from Northeast Harbor on Mount Desert Island, Little Cranberry is one of five islands making up the town of Cranberry Isles. The other islands are Great Cranberry, Sutton, Bear and Baker.
"Boats and Buoys," which runs through Sept. 30, was entirely sourced from the island community. This means that all the exhibit's contents were loaned by island residents who combed their homes and workshops for wooden buoys, glass floats, fishing lines, paintings, old photos and other historic material. When islanders see "Boats and Buoys," they will no doubt recognize many of the faces on the walls.
Little Cranberry has the distinction of being Maine's easternmost island that is inaccessible by car and yet sustains a year-round population. The majority of island residents continue to make their living from the sea as their ancestors did. The Cranberry Isles fishermen's co-op is going strong — its membership reflecting multiple generations of island families.
Come summer, the mile-long island's population more than doubles from under 100 with the influx of longtime summer residents and renters.
Visible from the water, the brick and green-shuttered Islesford Historical Museum stands on the waterfront overlooking Hadlock Cove. The museum was founded by summer resident William Otis Sawtelle, a physics professor at Haverford College in Pennsylvania, in 1927. Sawtelle sought to preserve the island's rich maritime and cultural history. After her father's death, Louise Sawtelle Libby, ran the museum that now forms part of Acadia National Park.
"Grandfather's objective was to document the history and character of the Island people," recalls the founder's grandson Bob Pyle said. A retired librarian, he volunteers at the museum.
"[The exhibit] nails the museum's original mission so well," Pyle said. "It is exactly the kind of thing my grandfather would have done."
Pyle's extensive family clan continues to spend summers on Little Cranberry since his grandfather's time. His mother and grandfather, along with his grandmother and aunt, are buried behind the museum in the Sawtelle family cemetery.
Island artist and lobsterman Rick Alley loaned some of his paintings to the exhibit.
"It's quite an honor," said Alley. Some of his pieces capture historic fishing scenes and the related gear and old-time practices dating back to the 1940s.
Alley grew up on Little Cranberry, accompanying his father lobster fishing from the age of 7. Early on, he showed artistic talent.
Alley studied painting for four years at the Portland School of Fine Applied Art, paying his way by returning to Islesford every summer to lobster fish.
"When I first started painting, it was so miserable lobstering in the spring that I just didn't set traps; I painted outside, doing landscapes and such." Alley said. "They were a little more spontaneous than something [when] you set up an easel inside in the winter and try to come up with things out of your head."
"Boats and Buoys" was spearheaded by the Friends of the Islesford Historical Museum, a newly established group working with Acadia, to raise awareness about the museum and its offerings.
"Boats and Buoys" highlights changes that have occurred in fishing boats and practices over the years. Lobster traps have evolved from wooden to plastic-coated wire and plastic. Fishing boats have changed dramatically from rugged sloops to powerful, fiberglass vessels equipped with GPS and high-tech radar navigation systems.
"People think you're going to go to a museum and just see history," exhibit project manager Rosamond Rea said. "But [the exhibit shows] the evolution over four generations."
Graphics trace multi-generation fishing families like the Fernalds. Visitors can relax in a period-style parlor and take in the photos and other pieces on view.
One of the stations focuses the lobstermen's colorful buoys that float on the ocean's surface and serve as markers for their traps sitting on the sea floor. Each lobsterman has his or her own color or combination of colors distinguishing their buoys from others.
Visitors also may have an opportunity to climb aboard a model lobster boat and handle some of the gear the fishermen use every day such as bands for the crustaceans' claws, a measuring gauge and other devices.
Through "Boats and Buoys," Friends of the Islesford Historical Museum aims to rekindle interest in the museum among year-round and summer residents of the Cranberry Isles. The group hopes to raise funds to upgrade the building so that more historical artifacts may safely be exhibited there.
"Boats and Buoys" was funded by New York businessman John S. Knott, who spends his summers on Little Cranberry. Knott owns the fabric company Quadrille in Manhattan.
Island BoundWhat: "Boats and Buoys: Lobstering on Little Cranberry Island"When: June 21-Sept. 30
Where: Islesford Historical Museum
Hours: Open daily 11 a.m.-4 p.m. (through Sept. 6) and 9 a.m.-3 p.m. (Sept. 7-30).
Getting there: Beal & Bunker Inc. from Northeast Harbor (244-3575, www.bealandbunker.com), Cranberry Cove Ferry from Southwest Harbor (244-5882, www.downeastwindjammer.com) will return next summer for a second run.
Other sights: Island Artists, Islesford Dock Restaurant and Gallery