Scenic railroad to restore historic locomotive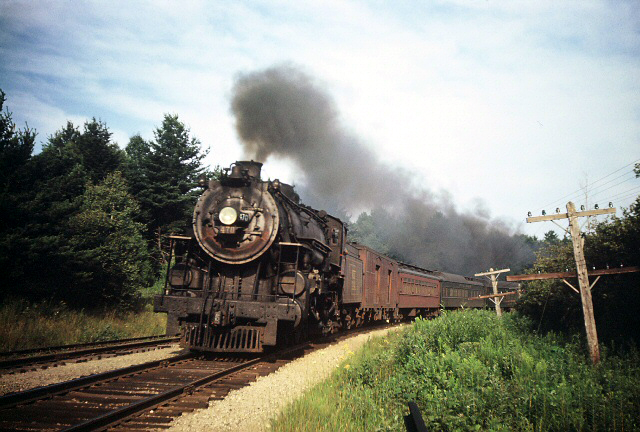 "I remember when passenger trains came down from Bangor and dropped off the mail at Ellsworth Falls," said 96-year-old George Conley. "I liked the sound of the trains, the sound of the whistle."
Conley, who grew up in Ellsworth Falls and has lived a few miles farther up the Bangor Road since 1959, would like to hear those sounds again.
"The track is just down in back of my house, but there aren't any trains there now."
When Conley left home for service in the U.S. Army in 1941, he rode the train to Bangor. He also took the train to and from Waterville during a year at Colby College.
Four or five years ago, he boarded a train for the first time in more than half a century when he took his daughters and grandchildren for an excursion on the Downeast Scenic Railroad. The meticulously restored, historic train runs every Saturday, Sunday and Monday from Memorial Day weekend through the weekend after Columbus Day. The train, departing from downtown Ellsworth, is a 10-mile ride including Ellsworth Falls and the Washington Junction railyard in Hancock during the 90-minute ride.
"I wanted to be able to say I had been on a train again before I died," Conley said. "I liked it."
So have a lot of other people over the past five years.
"It's a fully narrated trip," said Tom Testa, president of the nonprofit Downeast Rail Heritage Preservation Trust, which operates the train. "We give a good historic background of the rail line and its importance to the area. People get to see a working railyard, and we often see wildlife along the way."
The railroad's annual Touch a Train Day will be on Saturday, June 20, from 9 a.m. to noon at the Washington Junction railyard. Admission is free.
"You can tour the engine, the coaches and the caboose and go for a ride in the caboose through the railyard," Testa said. "Kids of all ages can sit in the engineer's seat behind the throttle of our locomotive."
On display at Touch a Train Day will be the bell from Maine Central Railroad's historic steam locomotive No. 470.
Built in 1924 and retired from service 30 years later, No. 470 is owned by the city of Waterville. But the nonprofit New England Steam Corp. is in the process of buying it, with plans to have it restored at the Washington Junction railyard. In a few years, when the locomotive is ready to be fired up again, it will be put into service on the Downeast Scenic Railroad line.
Old No. 470 played an important role in the history of railroading in Maine. It pulled passenger trains between Boston and Bangor and on the branch to McNeil Point on the shore of Frenchman Bay. That's where passengers transferred to steam ferries for the crossing to Bar Harbor. In fact, one of the trains that No. 470 routinely pulled was named the Bar Harbor Express.
"I think it is almost 100 percent certain that the Roosevelts and Rockefellers and their private cars were hauled behind this engine at one time or another," said Richard Glueck, president of New England Steam Corp.
He said the restored locomotive would become "a living educational experience for all Maine students" and a boost to heritage tourism in Hancock County.
"It is the largest remaining steam locomotive in New England," he said. "It will be a huge draw."
Engine No. 470 cost $62,297 to build 91 years ago. Glueck estimates it would cost $2 million today. It is expected to take about $1.3 million to fully restore the locomotive.
Glueck said his organization has received a number of grants and donations, but will need more. That's why, when asked how long the restoration would take, he said, "We move at the speed of money." He hopes it won't take more than five years.
The engine's tender will be moved to the Washington Junction railyard this summer, and the rest of the locomotive is to arrive no later than November.
Clickety-clack: It takes you back
What: Downeast Scenic Railroad
Where: 245 Main St. (behind Maine Community Foundation), off High Street in Ellsworth.
How much: Adults $15, children (3-12 years) $8, children under 2 (not occupying a seat) ride for free.
Contact: 1-866-449-RAIL (7245), www.downeastscenicrail.org