Wendell Gilley Museum offers weekly lessons in bird-carving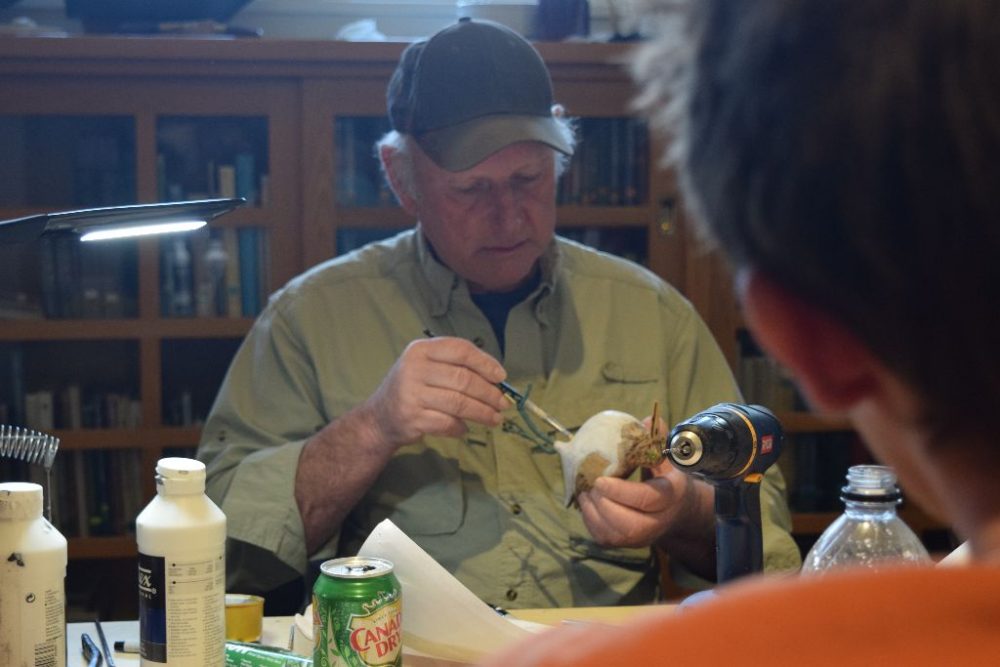 Steve Valleau came to the Wendell Gilley Museum in 1985 looking for a summer job and he hasn't left since.
Valleau is the museum's carver-in-residence and, like Wendell Gilley, the Southwest Harbor master carver whom the museum is named for, he's self-taught. Birds are "a fun way to get to know the world," the bird carver said, mostly because of the winged creatures' great number and variety.
The Wendell Gilley Museum offers one-day workshops and lengthier classes detailed on the museum's Facebook page. This summer, the museum has a special exhibition "Earth, Sea and Sky," featuring Port Clyde artist Barbara Ernst Prey's watercolor and oil paintings. It also will spotlight local artists Amy Gagnon and Jordan Chalfant, whose works are inspired by Mount Desert Island's wild landscape.
An Orono native, Valleau's interest in birds started when he was about 11 years old. His uncle, who was in the U.S. Air Force and stationed in Bangor, would take him birding on weekends. At 14, his parents gave him Gilley's book, "The Art of Bird Carving: A Guide to a Fascinating Hobby" (1972, Hillcrest Publications).
As a boy, Valleau only drew birds. His first carving project was finishing off duck decoys that his uncle started. Over the years, his creations won him two State of Maine awards and, for Valleau, that's "good enough." He enjoys teaching more than competing. In an increasingly digital world, he says, bird carving is an opportunity for a hands-on experience.
Valleau doesn't actively birdwatch anymore, but he earned a biology degree and has studied bird behavior. He is always looking for birds; even when he's up in the air, going 300 miles an hour, in an airplane.
On one airplane flight, he spotted a group of magpies near the landing field. He also gets ideas by looking up photos of birds online.
Generally, the carving process includes three steps: Making the legs out of metal; wood carving and detailing; and painting the piece.
Valleau's style has shifted over time, from realistic to whimsical. "As I'm getting older, I'm doing looser work," he said. He'll stick to the form, but plays in paint with a bird's particular colorings.
To capture a bird's flight feathers, which fan out in a precise pattern over the wings, Valleau uses a burner to show those fine lines. To depict the bird's contour feathers, those which define the outer body, he employs a grinder. That technique opens up the wood grain giving it a softer texture.
Some of a bird carver's other tools come from the medical field. A dental pick, for example, works well for detailing. The device Valleau uses to sculpt wood blocks into birds was originally invented for bone surgery.
For the left-handed Valleau, carving is the most enjoyable step.
"I just like making chips," he said. "The more familiar you are with it, the less you have to think about it."
For Marshall Walker of Swan's Island, who just completed a 10-week class designing and making an oyster catcher, carving also is the best part.
"You don't have to worry about the little details, you just carve," the 17-year-old said. His mother signed him up, along with his brother, Shepard, and grandfather, Joe Staples.
Staples, 72, said he hadn't whittled anything before and was reluctant about carving at first, but now would consider taking another class.
Jim Peverini of Bar Harbor took his first class seven years ago and has been coming back to the Wendell Gilley ever since. He remembers his grandfather, a carver, kicking him out of the woodshed when he was a boy. Now, he starts every project by striking the wood with his grandfather's pocket knife.
Peverini, who held a technical job for 35 years, loves the hand work that carving involves.
"It's a combination of your mind and your hand. You keep delivering thoughts and your hand has to actually produce them."
Sean Charette, who took over for Nina Gormley as the museum's director in 2017, said people don't only come to class to carve, but also for the stories. Every week, a different participant brings food, which fosters a congenial vibe. Charette said he enjoys working at small museums like the Gilley, where he can focus more on the activities and the people.
The Wendell Gilley opened in 1981 "to celebrate the life and work of Wendell Gilley, a pioneer in the field of decorative bird carving," according to the museum's website. Gilley, a plumber by profession, took up bird carving as a hobby. By his estimate, he created thousands of birds over 50 years.
The museum honors his legacy by preserving and displaying Gilley's widely known bird carvings, but also by "helping people connect with their own creativity and with nature," Charette said.
On May 27, the museum will hold its spring open house, where carving students' creations will be on view. Local musician Danny Harper and the Walker brothers are expected to perform at the reception.
The museum is located at 4 Herrick Road in Southwest Harbor. For more info, call 244-7555 or email [email protected].