Wild Acadia ropes course challenges both kids and adults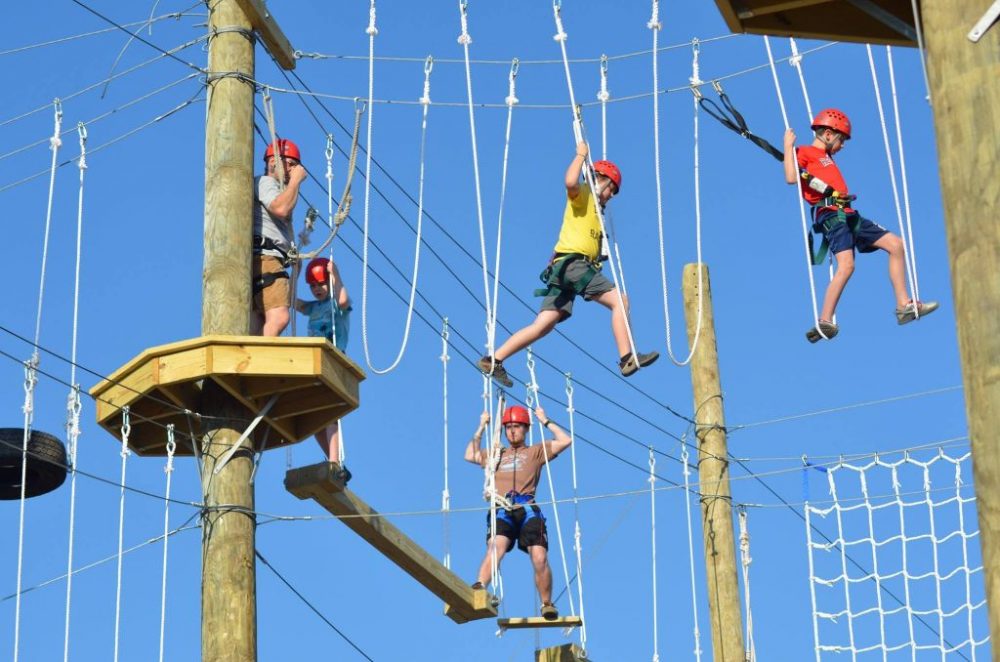 Adrenaline pumping, eighth-graders donning white safety helmets in the midday sun slowly teetered their way around the ropes course 36 feet in the air at Wild Acadia Fun Park.
The aerial ropes course, the only one of its kind within 100 miles of Trenton — the town split by Route 3 between Ellsworth and Mount Desert Island — is owned by brothers Andy and James Allen.
"Kids like it, but adults like it, too," James said. "It's like a giant playground for adults. I think being up high is sort of a rush for most people. Although it's an attraction, I think there are a lot of aspects that make you feel good about doing it."
Depending on one's comfort level, visitors have three course levels to choose from. Each level features different challenges. The first level, which is 12 feet off the ground, has the easiest obstacles. At 36 feet, the third level is the most challenging.
"They get harder as you move up, but we never say they're impossible," said ropes course attendant Jessica Cooper.
Each challenges lies between two wooden platforms. Some are not too hard, simply walking across a log from one platform to the next. Others require more focus and dexterity. One challenge required stepping into foot holds at the end of several ropes hanging from a wire above. To get across, you step into loops, which swing once your weight is on them.
"There are all sorts of team-building aspects to it from helping your partner transition to a new element to just the challenge of the course itself," James said.
Hailing from Maine's easternmost Washington County, eighth-graders from Perry Elementary School and the Dr. Lewis S. Libby School recently ventured to Wild Acadia for their class trip. Some students were fearless. One boy boasted how he had completed almost every element on the course and was hungry for more.
Another girl appeared more timid. She was only on her second challenge and the trepidation on her face was palpable. "Don't look down!" a friend called out to her. Unable to gain stable footing, her legs wobbled on the wire rope she balanced on. Her hands clung to the rope hanging above her. She slowly put one trembling limb in front of the other and soldiered on. Encouraged by her classmates, her courage rose after each obstacle.
"Today we have a lot of eighth-graders here, and for them at that age this can help build confidence," Cooper said.
Before attempting the course, instilling and communicating safety procedures is top priority. An instructor helps secure visitors in a full-body harness, which has leg holes and wraps around their hips, chest and shoulders. Then they are taught how to work the smart belay system that will keep them attached to the course at all times.
Extending from the harness are two lanyards with carabiners at each end. The carabiners clip onto the safety wire running above. To move from one element to the next, the climber squeezes a button on one of the carabiners. The clip opens, and he or she attaches the carabiner to the safety wire of the next obstacle they want to tackle. They then pull down to lock the carabiner in place.
They then repeat the process with the second carabiner. The belay system is an Edelrid Smart Belay. It is designed so both carabiners can't be undone at the same time preventing someone from accidentally unclipping themselves while transitioning between obstacles.
Originally from Southwest Harbor, the Allen brothers both attended Mount Desert Island High School and graduated from the University of Southern Maine. They bought the Route 3 property nearly a decade ago.
"We'd seen ropes courses in other parts of the state, and you don't drive by one and not notice it," James related. "They're very eye-catching, and it seemed like it would be a fun way to make a business to give people things to do."
The Allens already had their feet in tourism. Several years after college, they had bought a a Northeast Harbor tour boat, the Sea Princess, which they still own today. They grew up sailing and held various jobs in the boating world after college before deciding to go into business together.
"We're brothers. We're business partners, and we're best friends," Andy said.
Adding Wild Acadia to their portfolio was a way to branch out to a different kind of tourism venture.
"The ropes course seemed like it would be a good, wholesome, fun, clean, green attraction that would fit well with Acadia National Park and the outdoorsy people who are driving by it," James said.
If the ropes course doesn't pique your interest, the park also features water slides, zip lines, go-karts, a slingshot trampoline, a 32-foot climbing wall, miniature golf and Waterwars, "the ultimate water balloon game."
The ropes course costs $25 per person for ages 4-13 and $35 for ages 14 and up.
Wild Acadia Fun Park is located at 233 Bar Harbor Road (Route 3) in Trenton. For more info, call 667-3573 and visit www.wildacadia.com.