Young artist carries on vision at legendary gallery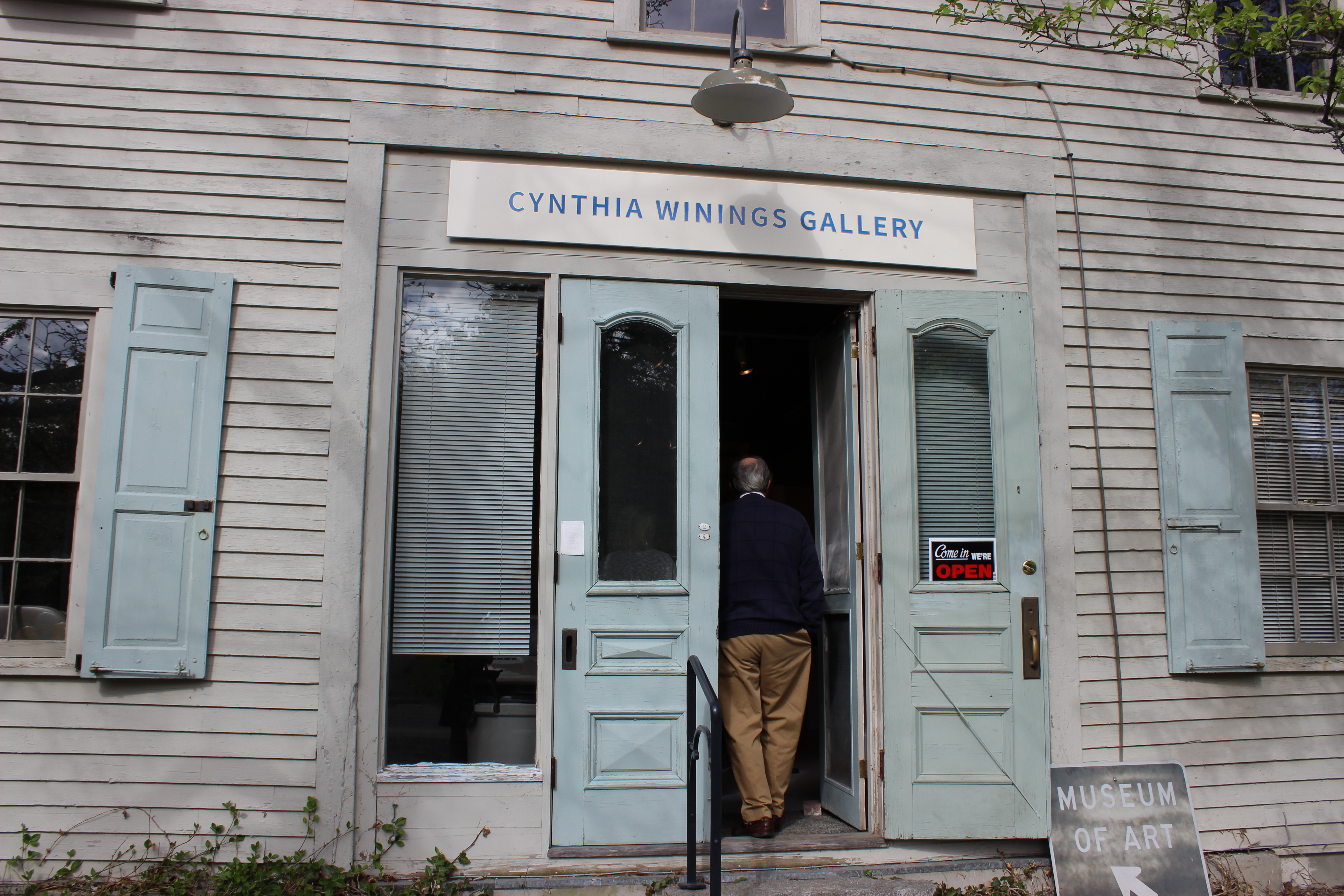 The Cynthia Winings Gallery is abuzz as scores of folks eye the vibrant artwork gracing the clean white walls on opening day. It's clear Blue Hill's former Leighton Gallery has come back to life.
In her second season, new gallery owner and artist Cynthia Winings welcomes the public flowing through the open door of the airy clapboard on Parker Point Road. The opening show ranges from Cumberland painter Brita Holmquist's oils to Stonington artist Eugene Koch's abstractions incorporating handmade clayboard, Plexiglas and other material.
Winings' husband, David Dillon, is tending the makeshift wine bar at a foldable table in the back of the gallery. His wife asks him to grab a knife for the cheese, and he dashes next door to the couple's home to retrieve it. Just last year, the two purchased the gallery and adjacent home. For more than 30 years, both properties belonged to art dealer and artist Judith Leighton.
In 1985, Leighton converted the old, three-story barn at 24 Parker Point Road into an art gallery. By the time of her death in 2011, the gallery was considered one of the best for contemporary art on the East Coast and had been voted the best gallery in the state in a Maine Times poll.
Now, Winings hopes to carry on Leighton's legacy.
"The more I become intimate with the space and notice the choices she made, I just admire her so much," Winings said. "She definitely had an incredible vision."
Winings never met Leighton, but she said the property caught her eye.
"When my husband and I first looked at this place, I was so inspired, and I had a vision of myself as Judith — an old woman having a gallery for 30-plus years," Winings said.
But when Winings put a bid on the property in 2012, she lost both the gallery and house to Blue Hill Memorial Hospital. Rumors spread that the property would be razed to expand the hospital's parking lot. About 150 residents came to a public forum to protest the hospital's purchase, concerned that the expansion would change the character of Blue Hill's historic downtown.
To reach a compromise with the town, the hospital split the property in two and put the gallery and house back on the market in March of 2013. Winings, who was living in Brooklin at the time, jumped at the chance. This time, she won.
"Once we did get it, a whole team came in and we painted the floors and painted the walls and made it sparkle again," Winings said.
She opened the gallery last year in late June, as quickly as she could ready the space. This year was the gallery's second opening but it's first in May, the "proper season," Winings said.
The opening show features works by Maine artists such as Bill Mayher, who creates shorebirds and fish from driftwood that he collects from nearby islands.
"Not that I'm against hunting or guns or anything, but my stage in life, it's more fun to create nature as opposed to just blasting away at it," Mayher said.
Nature also informs Winings' work. A collage and oil painting depicts fish swimming in the water underneath a house on an island. She says her work changed when she moved to Maine from New York City in 2010.
"When I was living in New York, I think I was much more influenced by the trees and the dirt around us, but now I think much more about the ocean and mysteries within the depths of water," she said.
Winings grew up in Redding, Pa., but moved to New York City after graduating from Moore College of Art and Design with a bachelor's degree. She lived there for 13 years. After her son was born in 2009, she and her husband picked up everything and moved to Brooklin.
"I just felt inspired to try a new way of living," Winings said. "My husband and I had been in the city for a very long time."
She hopes running the gallery will allow her to put roots down in Maine while continuing to create her own art.
"I like the fact that she has her own taste and follows her instincts," said Wiscasset mixed-media artist Lari Washburn. "To be authentic is really what makes a gallerist unique."
Winings also hopes to carry on Leighton's legacy of creating a home for figurative, abstract and narrative work until the next visionary artist comes along to take the reins.
While painting the walls, she said she thought about how the color would look over time — whether or not it would still work well when she was gone.
"When you live around old houses you feel like you're just this moment in time," Winings said. "I just feel lucky that I have this moment."
Cynthia Winings Gallery
Where: 24 Parker Point Road, Blue Hill
Hours: 11 a.m.-5 p.m., Tuesday through Saturday. In July and August, 11 a.m. to 5 p.m. Monday through Saturday and noon to 4 p.m. on Sundays.
Contact: 204-4001, www.cynthiswiningsgallery.com