Museum invites public to take pinhole images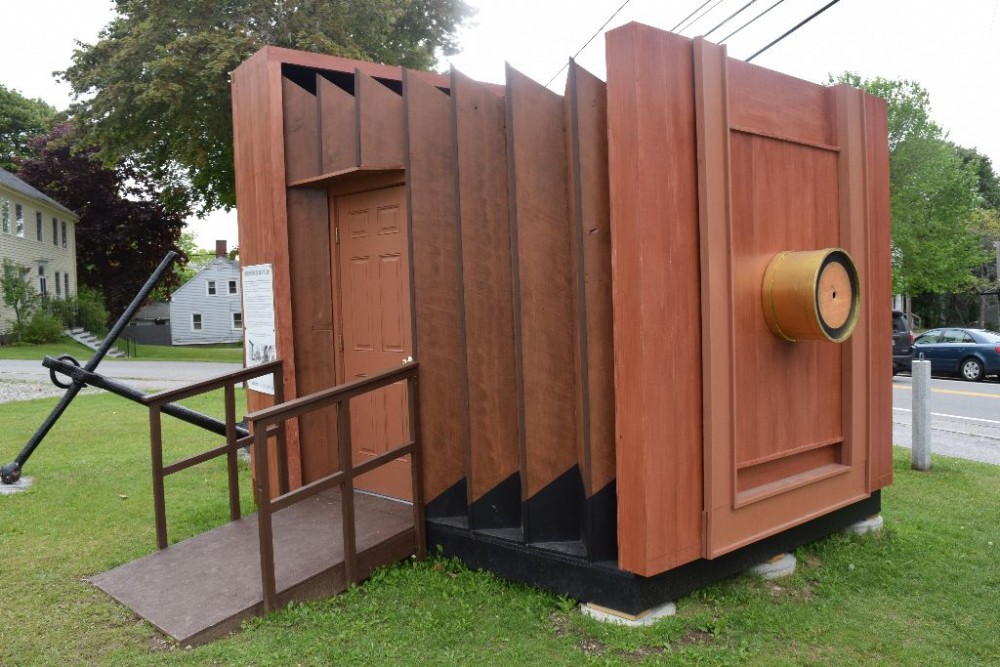 It was Daniel Webster who wrote that men "hang out signs indicative of their respective trades" — shoemakers a giant shoe, jewelers a monster watch and dentists a gold tooth.
It only makes sense, then, that when the Penobscot Marine Museum decided to have a summer full of exhibits dedicated to photography that it would want to let the world know in similar fashion.
On the Route 1 end of its downtown Searsport campus, the museum has installed a huge, walk-in camera. Designed by John Bielenberg and built by him and Richard Mann. It is considered a "camera obscura," the precursor of the modern camera.
The camera obscura dates back over two millennia, according to the museum, when the ancient Greeks and Chinese discovered that "light passing through a small hole in a darkened room creates an inverted image of the outside scene on the opposite wall."
Renaissance artists used the camera obscura as a tool to gain greater detail and accurately depict perspective in their work, according to the museum. The use of lenses and mirrors advanced cameras, and in the 19th  century chemicals and optics allowed for the first photographs to be taken.
Pencils and paper will be available inside the giant camera, allowing visitors to create their own photographs and images.
The walk-in camera is just the tip of the photographic iceberg, however. The museum is also having "Make a pin-hole camera" workshops and has a "Wall of Selfies," where visitors can add their own selfies taken with their camera phones.
The overall photographic focus is titled, "Exploring the Magic of Photography: Painting with Light." Specific exhibits within that include:
"Through Her Lens: Women Photographers of Mid-Coast Maine, 1890-1920." This explores the pioneering work of five women photographers who excelled in a field dominated by men. They include Ruth Montgomery and Joanna Colcord, who grew up sailing around the world with their sea captain fathers and learned the craft of photography at sea.
"Twenty Best" highlights the 20 most fascinating photographs in the Penobscot Marine Museum collection. It includes the earliest known photograph of Searsport.
"Evolution of the Photographic Snapshot: 1888-2015" explores the snapshot as a self-portrait of our culture.
"The Carters and the Lukes – Selections from the Red Boutilier Collection" is an intimate portrait of two families of boat builders taken during the 1960s and 1970s whose lives and careers saw the change from wooden sailing vessels to Kevlar.
The Penobscot Marine Museum is located on Route 1 in Searsport. The museum is open seven days a week through the third weekend in October. Museum hours are Monday through Saturday, 10 a.m. to 5 p.m. and Sunday noon to 5 p.m.
For more information, call the Visitors Center at 548-0334 or offices at 548-2529, and visit www.penobscotmarinemuseum.org.